Green Initiatives. Sustainable Solutions.
Together for A Better Future.
One of our core principles is to take the greatest possible care of the climate and the environment. It pervades everything we do. Our actions are guided by our respect for the Earth's resources. And for our fellow Earth dwellers.
Below, you can learn more about how this sustainable agenda makes us a responsible business partner and supplier of green solutions and furniture.
Comprehensive Collection with Design Furniture:
Climate Performance Data (CO2e) on Every Item of Furniture
Get useful data on how much CO2e your furniture emits, when you choose furniture from our comprehensive Nordic Collection.
Together with 17 of the biggest design brands in Scandinavia, we offer more than 100 furniture with climate performance data. Data that helps you make responsible furniture choices with the lowest possible global climate impact.
HOLMRIS B8's Climate Targets Approved by SBTi
As one of the first brands in the Danish contract furniture market, HOLMRIS B8's climate targets have now been validated by the independent and most prominent global climate standard for businesses, the Science Based Targets initiative (SBTi).
We are engaging actively and ambitiously in combating climate change and meeting the Paris Agreement goals of limiting greenhouse gas emissions and global temperature rise, and are therefore pleased that our realistic climate targets have received the prestigious SBTi seal of approval.
The UN Sustainable Development Goals. Are Our Goals, too.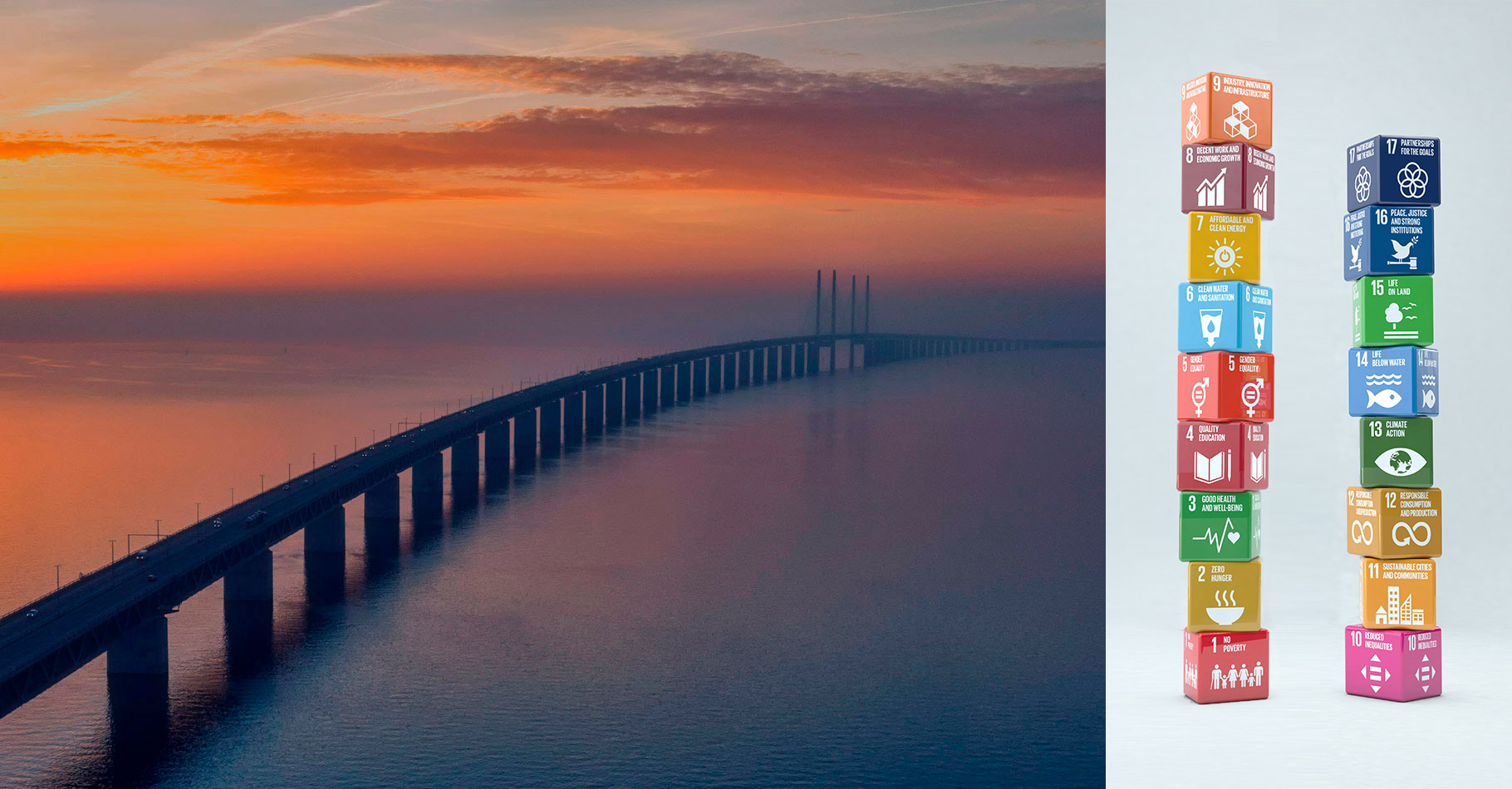 We work strategically with the United Nations Sustainable Development Goals and support all of them. However, our primary focus is on the goals where we can make the biggest difference: Goal 12: Responsible Consumption and Production and Goal 17: Partnerships for the Goals.
Passing on Resources to Future Generations.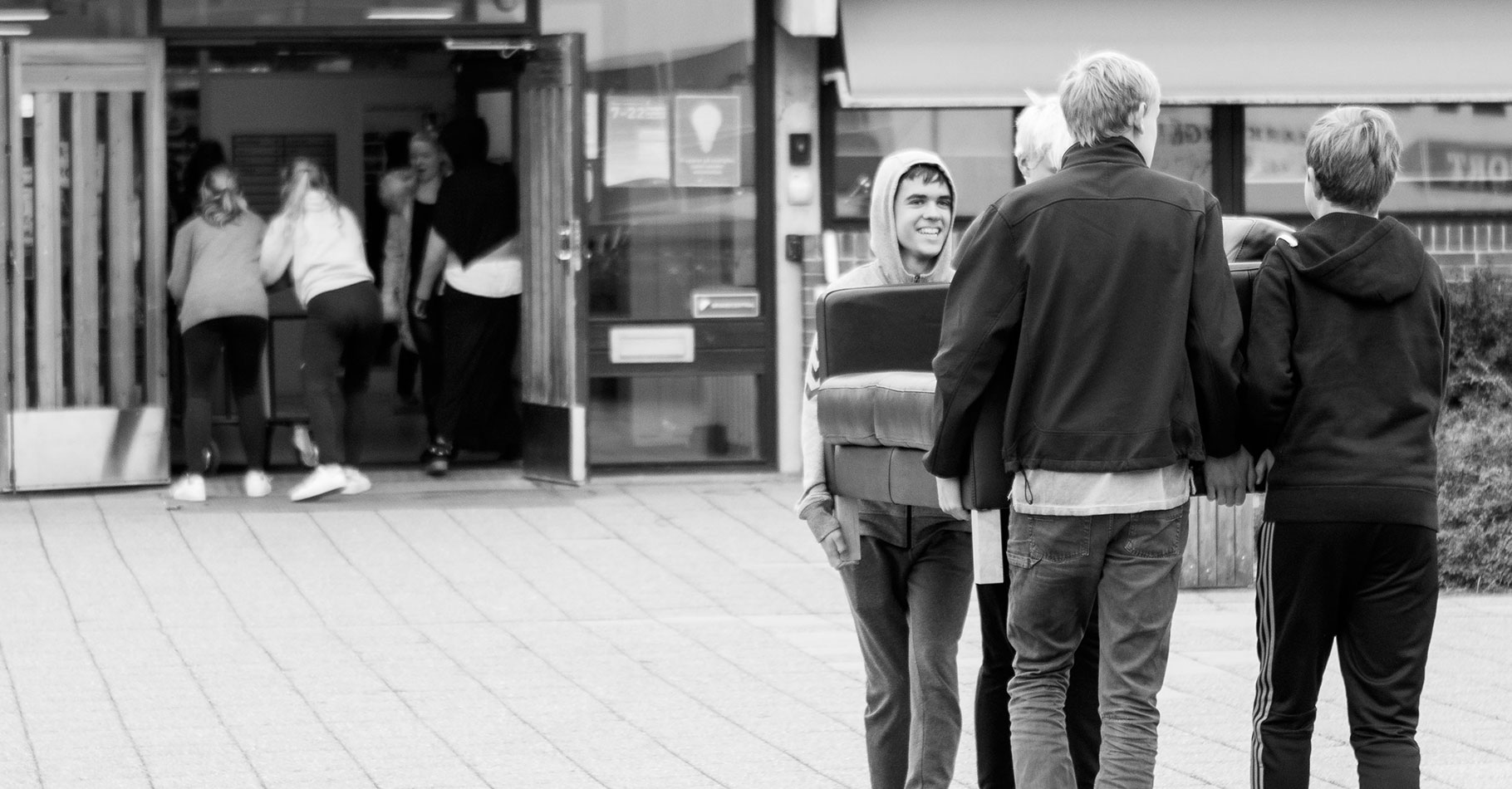 We have donated more than 100,547 pieces of used furniture since 2015.
We donate furniture that our customers no longer need but that is too good to throw away yet not in good enough condition to sell.
The used furniture is donated to the charitable organizations, schools, sports clubs and similar that are members of HOLMRIS B8's donation network. Donating used furniture extends the lifetime of the furniture, reduces waste, and conserves resources for the production of new furniture.
0
Donated pieces of furniture
0
Members of our donation network

Report Documenting your Green Initiatives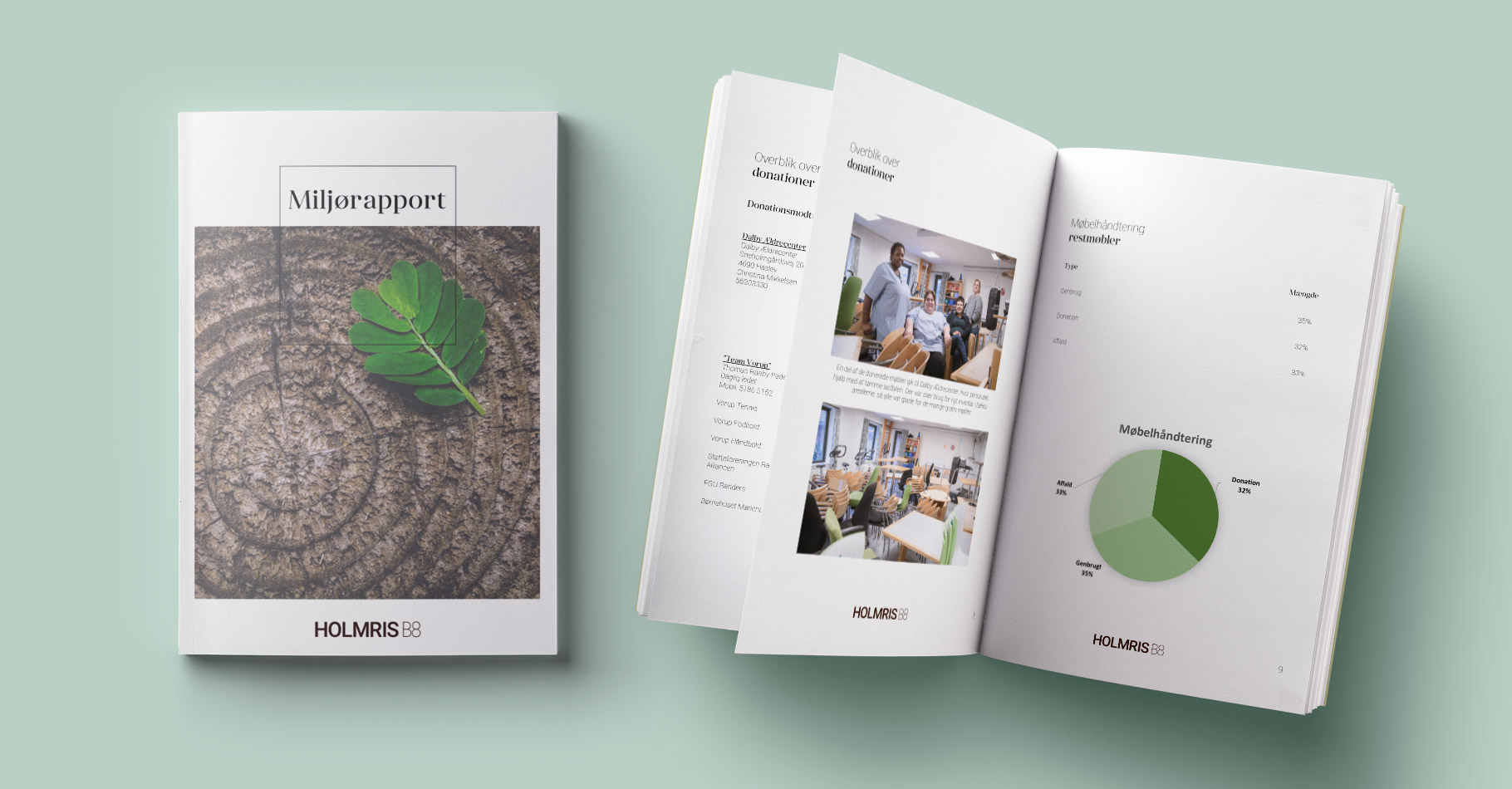 When we buy up your used furniture, we provide you with detailed documentation of what and how much has been donated and/or disposed of sustainably in your organization's name.
Ecolabelled Conference Tables and Desks
Q20 work-
and meetingtable
Three of our own table series now carry the Nordic Ecolabel.
103,588 Trees planted. And more to come.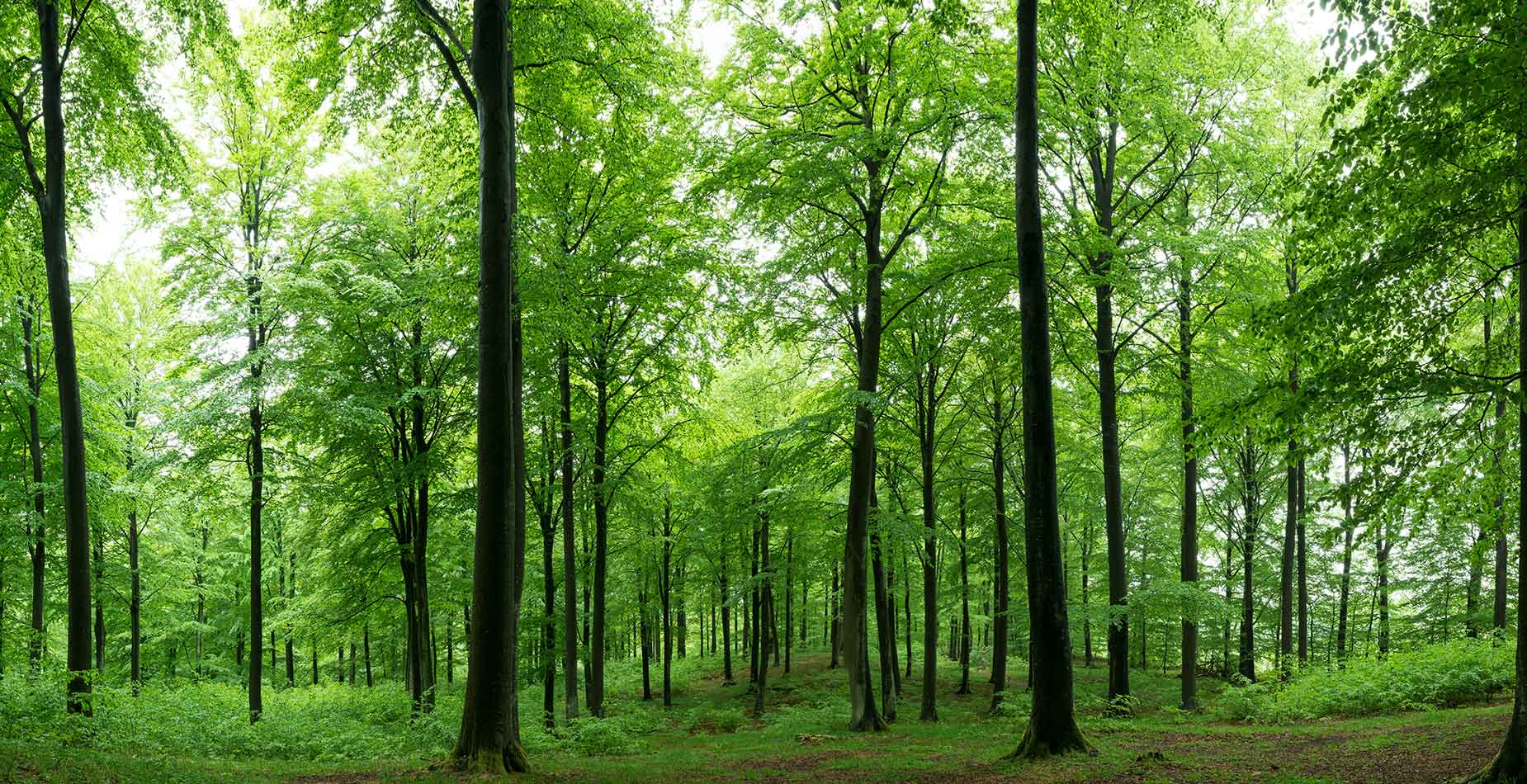 Buy trees when you buy furniture from us. This is a great way to compensate for the CO2 emitted during furniture production. Together with our customers, we have already planted more than 103,588 trees in Denmark and Africa.
The Big Sustainability Catalog
Dive into 94 inspirational pages on how we can work together to take better care of the world around us. And of each other.
Find out how we work with sustainability and circular economy and why we have chosen to lead the way in the sustainable transformation of the furniture industry.
Be inspired by furniture with climate performance data, recycled materials, services, and responsible actions and opinions.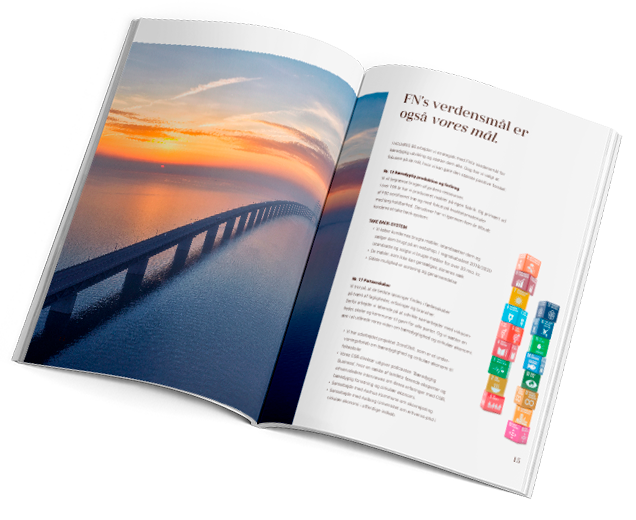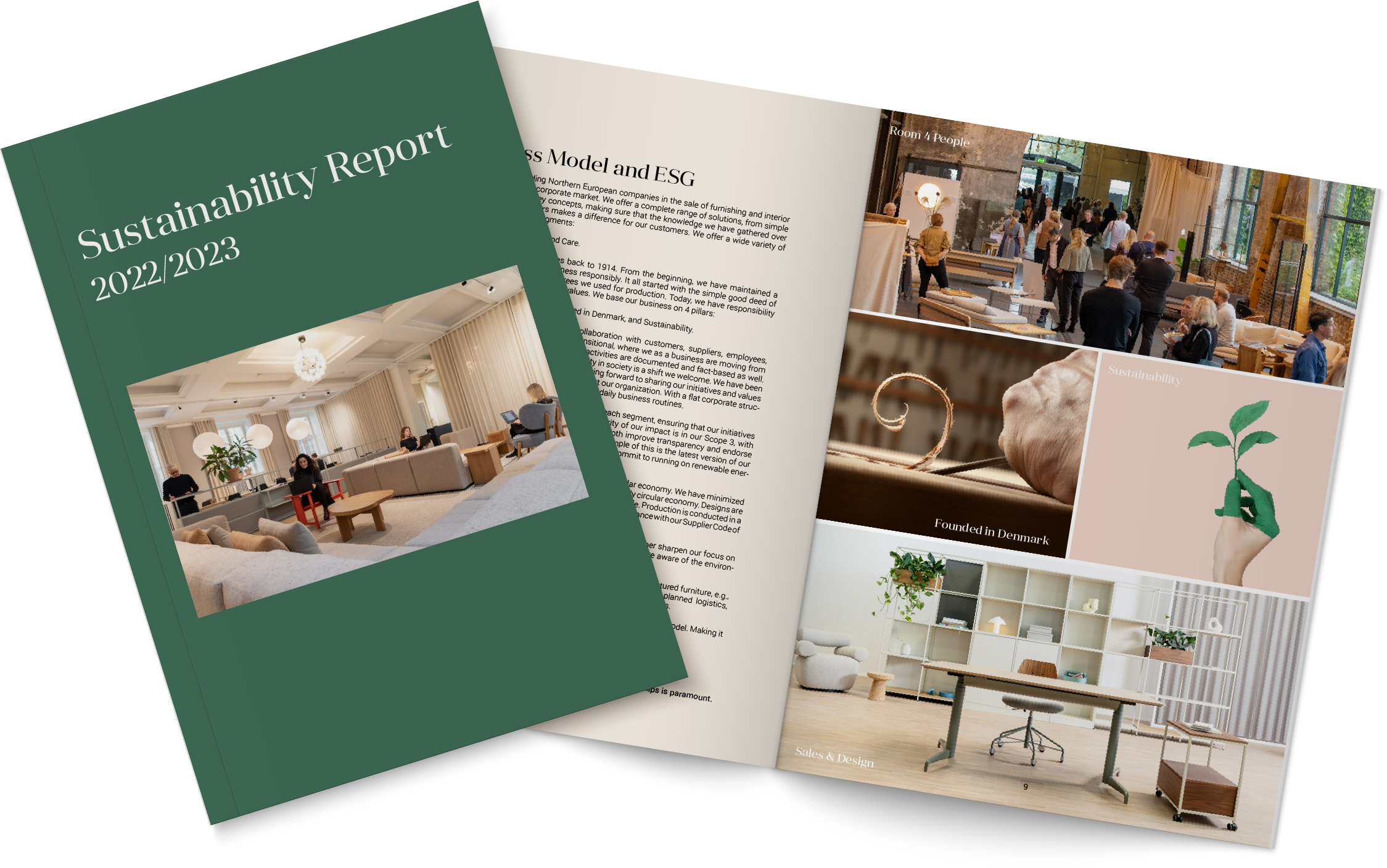 HOLMRIS B8's Sustainability Report
We have reduced our CO2 emissions with 4.8% and 39% in scope 1 and 2 by using renewable energy, leasing electrical or plug-in hybrid vehicles, and using natural gas. By recycling more waste, we have reduced the CO2e emissions from waste with 55%.
See all our results and initiatives in the report.