We create room for people.
With character.
At HOLMRIS B8, a room is more than just a place where people gather. It is where people flourish. The business guru. The pleasure-seeker. The professor. The go-getter. The patient. The carer. The fun-lover. And everyone in-between. We believe that people need room for both personality and diversity. To thrive. To develop. To produce results. To rise to the occasion.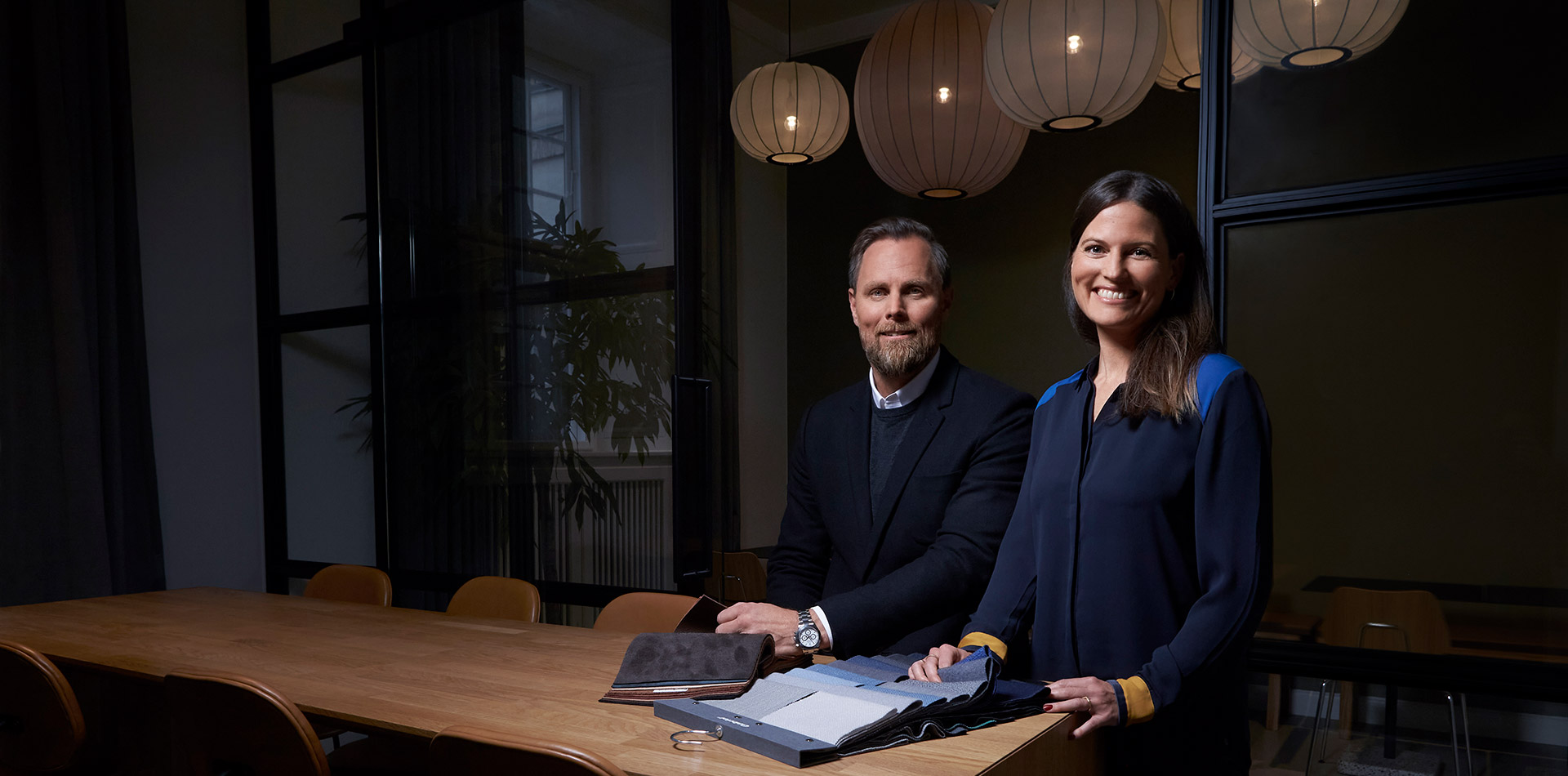 Endless possibilities. One right solution.
We define a good room according to its ability to accommodate people. When they are together. And when they are alone.
We choose from a unique collection of our own designs and the best from more than 1,000 suppliers to find the right combination to meet your needs.
And our workshop creates uncompromising, specially tailored solutions. Solutions that bring to life bold and innovative ideas for individual furniture concepts that are far from standard.
In everything we do, we are driven by a desire to challenge the norm. To create quality solutions that intelligently merge Danish design with innovative technology. That link form and function. And that make room for new possibilities.
Responsible. From nature.
Sustainability is an integral part of our DNA. In fact, it always has been.
Our history begins as a sawmill in 1914. With our own forest in the back garden. With reforestation as a core principle. And with respect for every single piece of material.
We are no longer in forestry. But sustainability and circular thinking still make up the core of our business. In every process. In every product. From production to disposal, recycling, reselling and donations.
Responsibility is therefore our heritage. And on this foundation, we create solutions that safeguard the environment and give people the best possible conditions to thrive. Today and tomorrow.
A community of diversity.
Together we are more than 250 of the industry's most talented and dedicated furniture experts. Diverse in mind. With one mindset.
Our driving force is a keen passion for design and the same entrepreneurial spirit upon which the company was founded 100 years ago. Here, there is room to make bold moves. To think differently. To see new opportunities. To exploit them. To make mistakes. And to act quickly.
Today, we stand on a foundation of unique experience and know-how. About our customers and their customers. We follow the latest furniture trends, and we continually explore tomorrow's technologies. This makes us leading specialists within Office, Learning, Care and Hospitality.
But first and foremost, our diversity makes us a creative, skilled and versatile partner. It brings us together in a strong and heterogeneous community. And it reminds us that we all have our own distinctive characteristics.
We are HOLMRIS B8.
Ownership.
For 80 years and three generations, HOLMRIS B8 has been family owned. In June 2017, this changed slightly when 60% of our shares were sold to the BWB Partners investment fund. The remaining 40% are owned by Henrik Holmris, senior employees, and board members.
The board of directors comprises:
Peter Thostrup, Chairman of the Board
Jacob Bergenholtz, BWB Partners
Peter Lynghøj Johansen, BWB Partners
Jens Peter Poulsen, CEO of Kvik
Jan Lythcke-Jørgensen, Implement Consulting Group
Niels Henrik Lauritzen
Henrik Holmris