Are you looking for ideas for how to create a more attractive canteen for your firm and do you want to use the space for more than just a lunch break? A canteen should be a pleasant place regardless of whether you only have ten minutes for a quick bite, want to chat with your colleagues over the special of the day or need a place to hold an informal meeting.
We want to share our best tips on making the most of your canteen space.
How Your Employees Use the Canteen
Before we get started on our tips, let's take a closer look at who uses your canteen and how. Over the years, we've supplied a good deal of furniture to many different Danish and international firms, and we've observed three different types of canteen users:

The Speedster
the busy employee who only drops by the canteen for a quick bite. Preferably on the go. They aren't there to chit-chat or socialize, and they spend as little time as possible in the canteen.

The Socialite
the social employee who wants to spend their lunch break talking with colleagues.

The Time-saver
the employee who uses both the canteen and having a bite to eat as a pleasant way to ease into the day and before letting it evolve into a professional meeting.
It's good to bear these types in mind to ensure your firm's canteen meets your employees' various needs.
A Cozy and Homey Dining Area
Just as office interiors and furnishings are increasingly inspired by the hospitality segment, the trend in office canteens is to create a cozy and homely atmosphere:
People tend to prefer a canteen that is cozy and has a kind of coffee-and-sandwich-bar vibe.
The space needs to fulfill a wide range of requirements for interiors, atmosphere and function. Below, we will share our best tips on how you can create a functional canteen that meets everyone's needs, is cozy and can serve as an alternative location for meetings.
Tip #1 – Think in Terms of Zones
Because the canteen is often a large space, it is a good idea to create different zones. The zones should meet the users' different needs (see the three user types described above), provide space for informal meetings and divide the large space up into smaller "rooms". This will make the dining area cozy, inviting and create an enjoyable café atmosphere, while making the space more functional and attractive to use outside of the lunch break.
Furniture can be used to help define the zones. For instance,
long or round tables promote socializing,
high tables work well for a quick stop,
and high-backed sofas, benches and room dividers, like open shelving, can be used to create meeting spaces.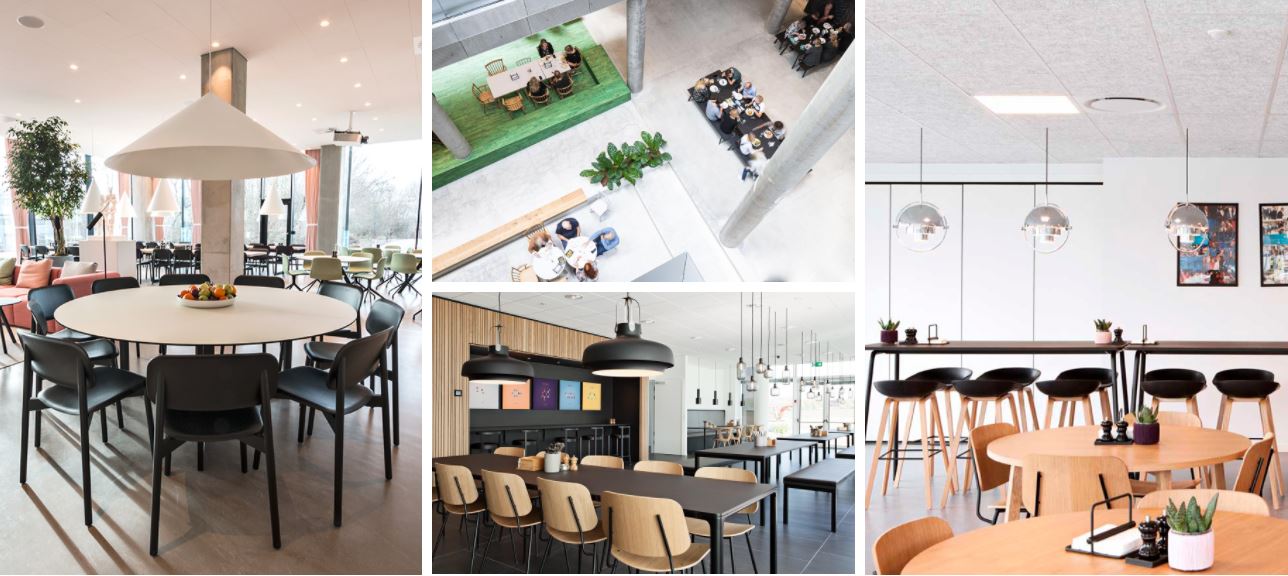 You can also create zones by elevating certain areas, using colors on the floor and changing the lighting.
At the same time, it is a good idea to create cohesion between the different zones, and for this purpose the new furniture series Central Station is ideal. The series comprises modules that can be combined into tables, benches, room dividers, and storage (for napkins, coffee machine, magazines, plants etc.). You can change the function of the modules without tools, adding extra flexibility when you need the canteen for parties or large gatherings.
Tip #2 – Create Variation
Creating variation makes the canteen more functional. You can vary the choice of materials, surfaces, colors, heights and types of furniture. This variation makes the space more interesting to spend time in and helps meet the users' various needs for both lunch and informal meetings.
How to Create Variation:
Combine round tables with the more traditional long tables for the social employees.
Use high tables where employees can have a quick bite, either standing or sitting on bar stools.
Create a café atmosphere with semi-soft chairs or benches upholstered with fabric or imitation leather.
Use different colors – for instance, use the same chair in several different colors.
Combine materials and finishes.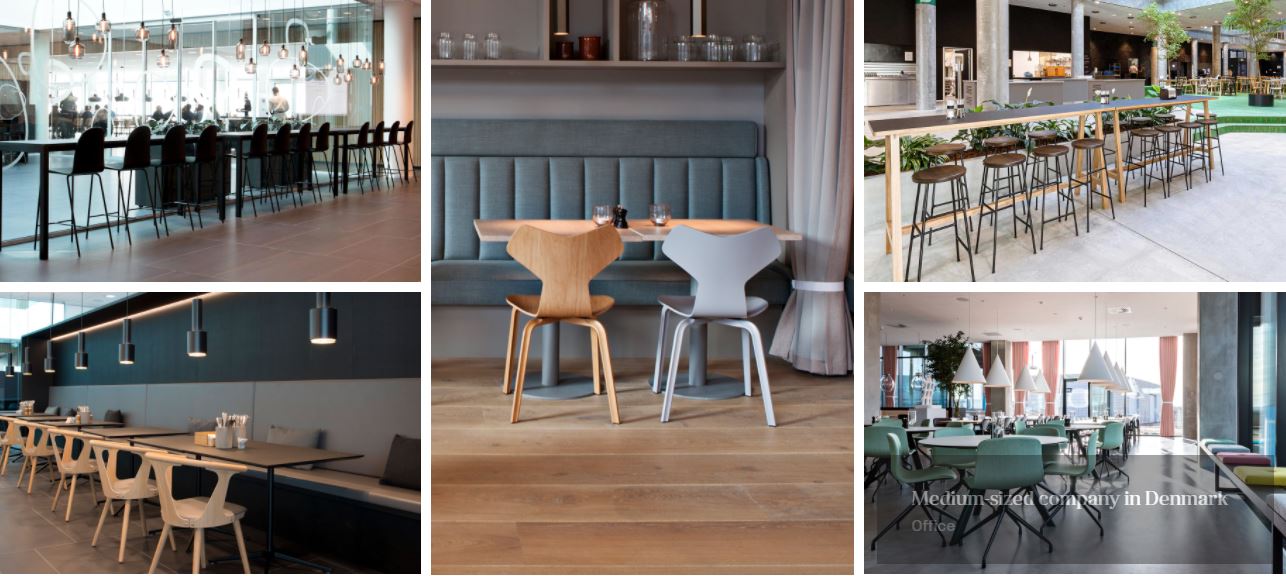 Tip #3 – The Alternative Conference Room
The canteen is often the firm's largest room and, paradoxically, the one where employees spend the least amount of time on a daily basis. In addition, the official conference rooms always seem to be booked whenever you need them. So it makes sense to create a canteen that your employees can use for informal meetings.
For this purpose, high-backed sofas or booths are perfect for creating a zone where people can have discussions or meetings without being interrupted. A quick department meeting can also take place around a high table, where you can run through the tasks of the day over a cup of coffee.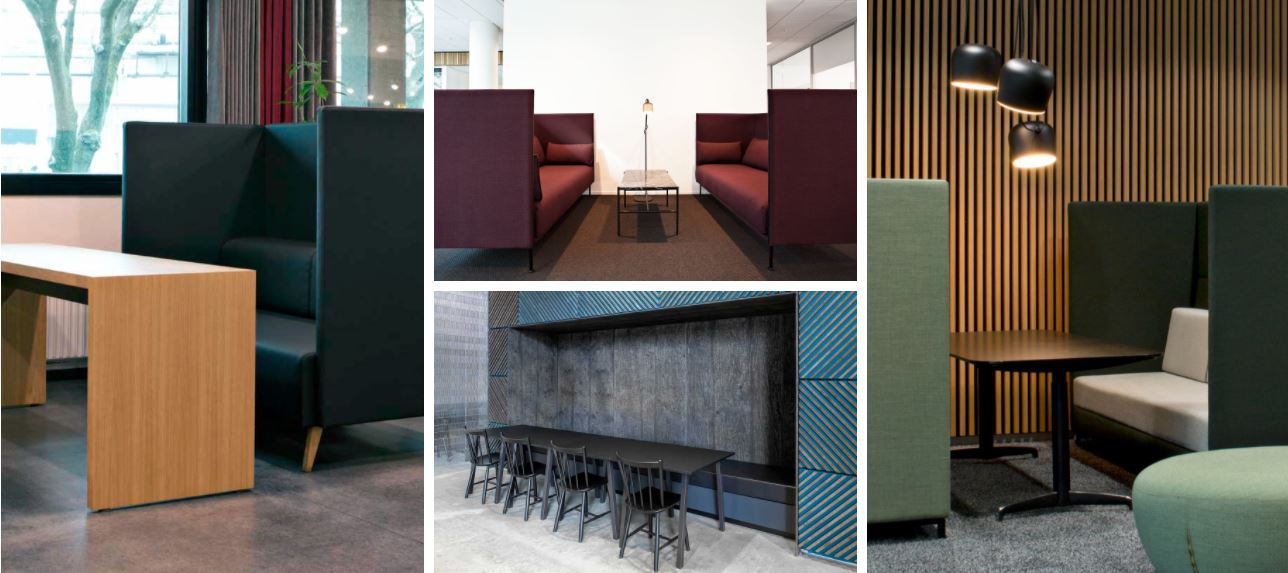 Tip #4 – Don't Forget the Lighting
Many canteens are illuminated with fluorescent lamps, but you can create a much more pleasant atmosphere by experimenting with other light sources. For example, pendant lamps – maybe even the same type of lamp in different versions, which is a fun way to light up a space while adding an artistic touch to the décor. Lighting can also help define the canteen's various zones.
With pendant lamps, a space can sometimes lose some of its flexibility. However, creating zones can compensate for this loss.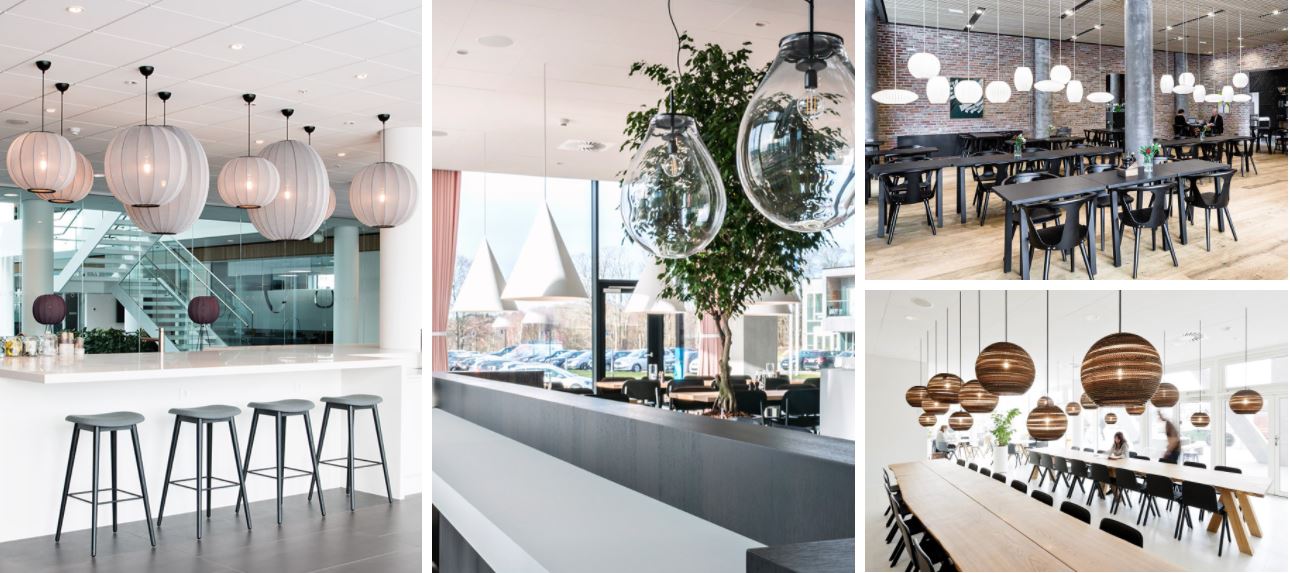 Tip #5 – Choose Sound-Absorbent Elements
Acoustics are important in a canteen where a lot of people are gathered in one place and tend to make more "noise" than they would in the office. To improve the acoustics, you can incorporate plants, curtains or upholstered furniture in the canteen décor. For instance, HOLMRIS B8's high-backed Tweet sofa absorbs sound one and a half times better than an ordinary divider screen.
Randers Radius' chair DRY, made from PUR material, has excellent sound-absorbing qualities, making it ideal for muffling the sound of chit-chatting colleagues and clattering cutlery.