Savner du inspiration til, hvordan du skaber en mere attraktiv kantine i din virksomhed og samtidig gør den mere brugbar uden for frokostpausen? Et sted, som både er hyggeligt at være, lige meget om man bare har 10 minutter til en hurtig bid brød, vil sludre løs med kollegerne over dagens ret eller holde et uformelt møde.
Så får du her vores bedste tips til at udnytte kantinens mange kvadratmeter bedst muligt.
Sådan bruger medarbejderne kantinen
Inden vi går i gang med vores tips, er det en god idé at se på, hvem der bruger kantinen. Igennem vores samarbejde med at levere møbler til mange danske og udenlandske virksomheder, har vi observeret tre forskellige brugere af kantinen:

Den hurtige
medarbejderen, som har travlt og kun besøger kantinen for at få stillet sulten. Helst i en fart. Han er der ikke for at småsnakke eller socialisere og bruger mindst mulig tid i kantinen.

Den sociale
medarbejderen, som gerne vil være social og bruger frokostpausen til at hygge med kollegerne og få klaret verdenssituationen.

Den effektive
medarbejderen, som bruger kantinen og dét at få en bid mad som en blid start på hvad, der efterfølgende glider over i et fagligt møde.
Disse typer er gode at have i baghovedet, så kantinen i din virksomhed imødekommer medarbejdernes forskellige behov.
Hygge og hjemlighed i kantinen
Lige som kontorets indretning og møbelvalg i højere grad henter inspiration fra hospitality-segmentet, er tendensen inden for kantiner, at den hyggelige og hjemlige atmosfære også skal føres videre i her:
Mange vil gerne have en kantine, der er hyggelig og har lidt Joe and the Juice-stemning over sig. Bare uden den høje musik.
Der er altså mange krav til indretningen, atmosfæren og anvendelsen af kvadratmeterne i kantinen. I det følgende får du vores bedste bud på, hvordan du skaber en brugbar kantine, som imødekommer alles behov, er hyggelig og kan fungere som alternativ til mødelokalerne.
Tip #1 – Tænk i zoner
Da kantinen ofte er et stort lokale, er det en god idé at skabe zoner. Zonerne skal som udgangspunkt imødekomme brugernes forskellige behov (de tre typer herover), skabe rum til uformelle møder og dele det store lokale op i mindre 'rum'. Det gør både kantinen hyggelig, imødekommer den caféstemning, mange efterspørger, og gør den mere brugbar og attraktiv uden for frokostpausen.
Møblerne kan være med til at definere zonerne, hvor fx
langborde eller runde borde inviterer til fællesskab,
højborde til et hurtigt stop,
og mere aflukkede møbler eller afskærmninger i form af fx åbne reoler til møder.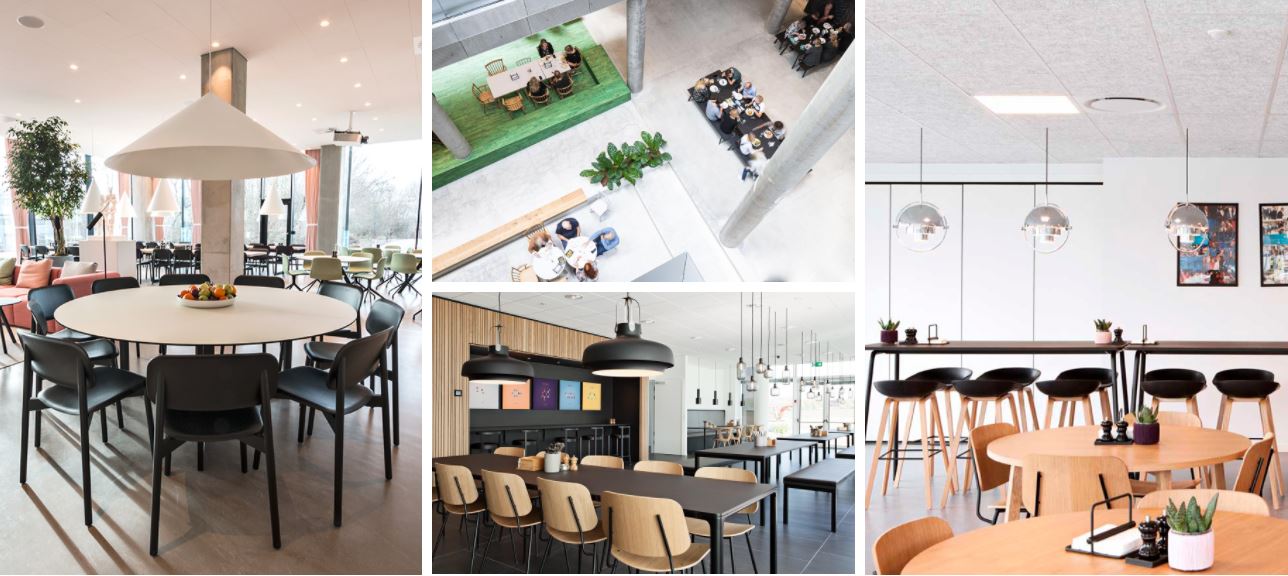 Du kan også skabe zoner med højdeforskelle i gulvet, farver på gulvet eller lyskilder.
Samtidig er det smart at kunne skabe sammenhæng mellem de forskellige zoner, og den nye møbelserie Central Station er oplagt til dette formål. Serien består af moduler, du kan sætte sammen til borde, bænke, rumdelere, opbevaring til fx servietter, kaffeautomat, magasiner, planter osv. Du kan ændre modulernes funktion helt uden værktøj, og det giver fleksibilitet, når kantinen fx skal bruges til fester eller store forsamlinger.
Tip #2 – Skab variation
Det giver en mere brugbar kantine, hvis du skaber variation. Både i materialevalg, overflader, farver, højder og møbelvalg. For det første giver det et spændende miljø at være i, og for det andet imødekommer variationen medarbejdernes forskellige behov for at kunne indtage dagens frokost eller holde et uformelt møde.
Sådan kan du skabe variation:
Kombinér runde borde med de traditionelle lange af slagsen til de sociale medarbejdere.
Brug højborde, hvor maden både kan indtages stående af den hurtige eller siddende på barstole
Skab caféstemning med semibløde stole eller bænke med polster eller kunstlæder
Brug forskellige farver – fx den samme stol i flere farver
Mix materialer og overflader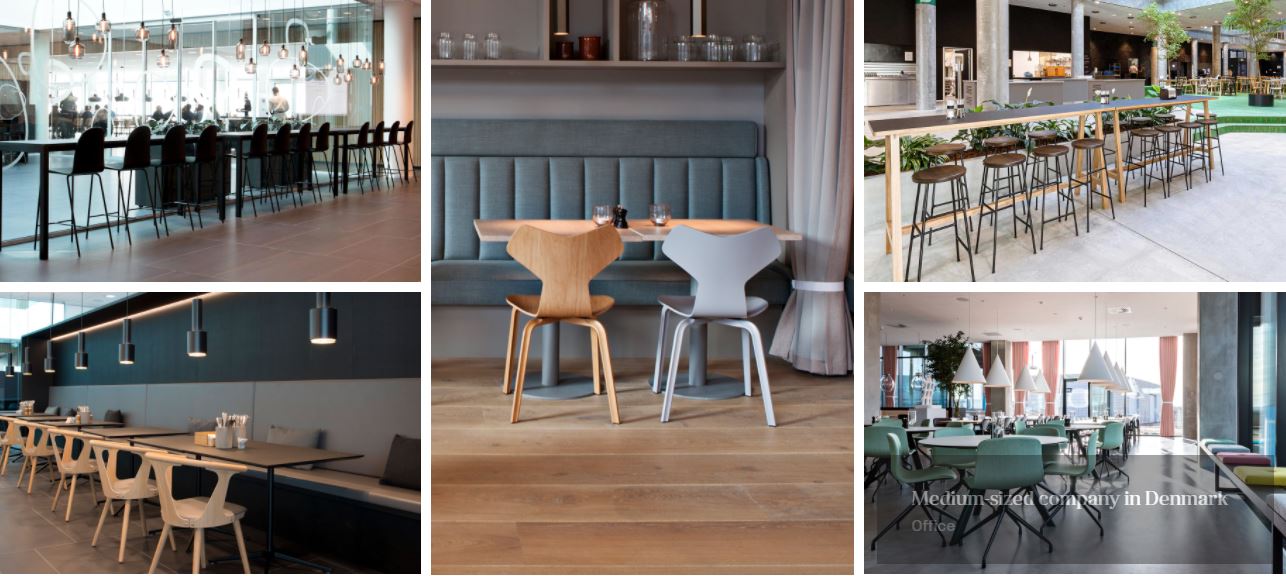 Tip #3 – Det alternative mødelokale
Kantinen er ofte virksomhedens største lokale og lidt paradoksalt det lokale, medarbejderne bruger færrest timer om dagen. Samtidig er der ofte en konstant rift om mødelokalerne, som altid synes bookede. Derfor er der stor fornuft i at skabe en kantine, som medarbejderne også kan holde uformelle møder i.
Her er fx højryggede sofaer eller kupéer ideelle til at tydeliggøre en zone til uforstyrrede snakke eller møder. Det kan også være stående afdelingsmøder, hvor man samles om et højbord og får styr på opgaverne, mens morgenkaffen nydes.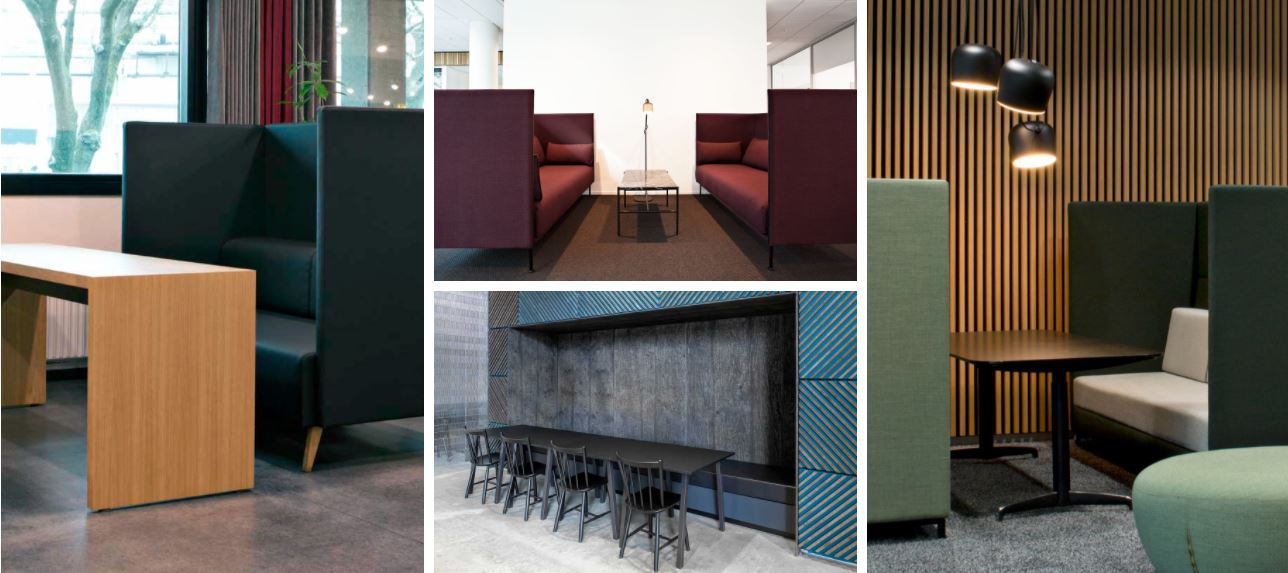 Tip #4 – Husk lyset
Mange kantiner er oplyst med lysstofrør, men du kan skabe meget mere stemning og atmosfære ved at eksperimentere med lyskilderne. Brug for eksempelvis pendler – måske endda samme type lampe i forskellige varianter, som både giver et ordentlig lys og fungerer som kunstnerisk indslag i indretningen. Samtidig er lyset med til at definere kantinens zoner.
Brug af pendler kan nogle gange betyde, at du må give køb på kantinens fleksibilitet, men vælger du at indrette med zoner, vil det opveje ofte opveje den fleksibilitet, pendlerne fjerner.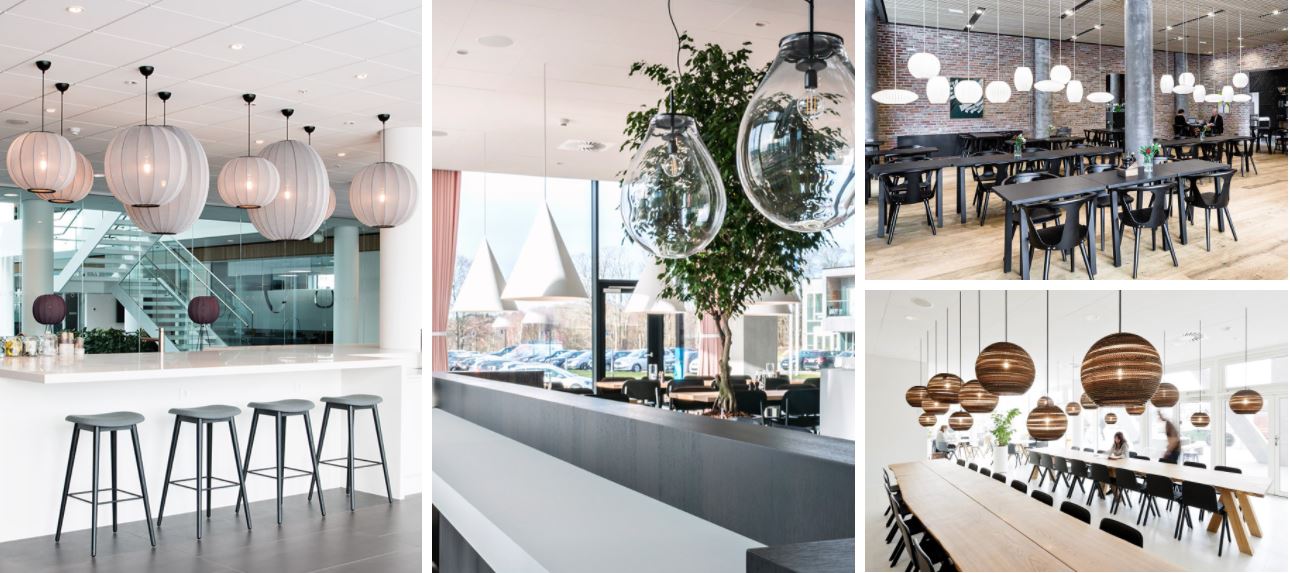 Tip #5 – Vælg akustikdæmpende elementer
Akustikken er vigtig i en kantine, hvor mange mennesker er samlet og måske er mere 'larmende' end på kontoret. Derfor kan du med fordel inkorporere planter, gardiner eller polstrede møbler i kantinen, som alt sammen kan være med til at skabe en god akustik. Fx er HOLMRIS B8's højryggede Tweet sofa halvanden gange så støjdæmpende som en almindelig skærmvæg.
Randers Radius' stol Dry af purmateriale er også kendt for at absorbere lyd og er derfor også en god måde at dæmpe lyde fra snakkende kolleger og klirrende service.