We've curated the first-ever collection of furniture from HOLMRIS B8 and 17 other suppliers that shows you climate performance data for every single item of furniture.
Our comprehensive furniture range, named Nordic Collection, is part of our mission to give you data for making smart and responsible furniture choices with the lowest-possible global climate impact.
Climate performance data for all your furniture and fittings
The furniture in the Nordic Collection consist of designs from a wide array of the biggest and most acclaimed brands on the Scandinavian market, with a sharp focus on diversity in design and application. This means you can furnish and fit out your entire premises – office, canteen, conference facility, lounge space, lobby or classroom – with the confidence of knowing the exact climate performance data.
Watch this two-minute video presentation of Nordic Collection:
What are climate performance data?
The furniture climate performance data are expressed in kg CO2e. The CO2e value is the foundation for Nordic Collection and quantifies how many kilograms of greenhouse gases (meaning not only carbon dioxide) are emitted in making an item of furniture, and its expected lifespan.
Our vision is for you, as a consumer, to not only know the price you pay for a product, but also the "climate price" the planet pays for that product.
The climate performance data for our furniture have been calculated using a tool created by an independent third-party, Målbar, based on the European calculation method known as EU PEF (Product Environmental Footprint).
Below, you can see the parameters factored into the calculation: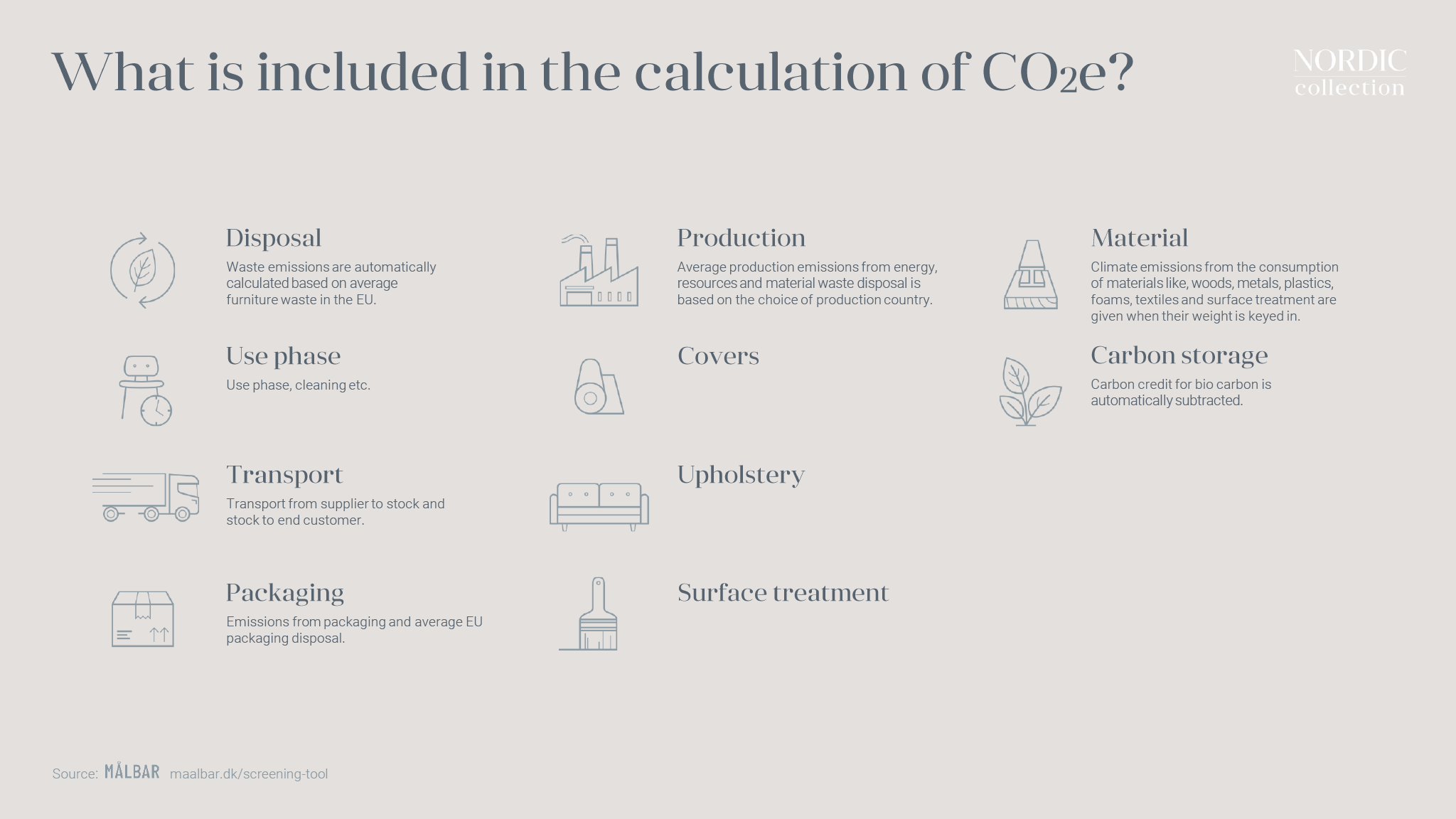 Climate performance data cannot stand alone
The climate performance data for a given item of furniture can be used for various purposes:
As insight for making an informed choice so your decision is not based on design or price alone.
As evidence of your organization's indirect carbon emissions for use in your sustainability reporting under Scope 3.
Designers and manufacturers can use the climate performance data for reducing the climate footprint of their products. It may be possible to replace materials with less climate-harmful alternatives, or optimize the design, for example, so the product takes up less cargo space during shipment.
It is important to stress that our climate performance data are not intended to stand alone.
The climate performance data are simply the latest in a number of increasingly decisive factors like design, functionality, comfort, lifespan and repairability that you need to consider today when choosing furniture.