We educate our children for the future, but what does the future hold? Future Classroom Lab prepares the educational sector for a world that is changing at an ever faster pace.
21st century learning skills are designed to prepare your students for the future. By focusing on teaching six skills, you equip students to navigate the unknown demands they will encounter in the labour market.
The six skills are:
Collaboration
Problem solving and innovation
IT and learning
Self-assessment
Knowledge construction
Competent communication
The classroom of the future
The Centre for Educational Resources at UCC has transformed a large space at Campus Carlsberg into Future Classroom Lab, where the skills of the future are put into play. Here, students tackle specific challenges, working through five phases as they solve a given problem.
To support each of these phases, we collaborated with the staff of Future Classroom Lab to furnish four zones:
Presentation Zone
Exploration Zone
Development Zone
Feedback Zone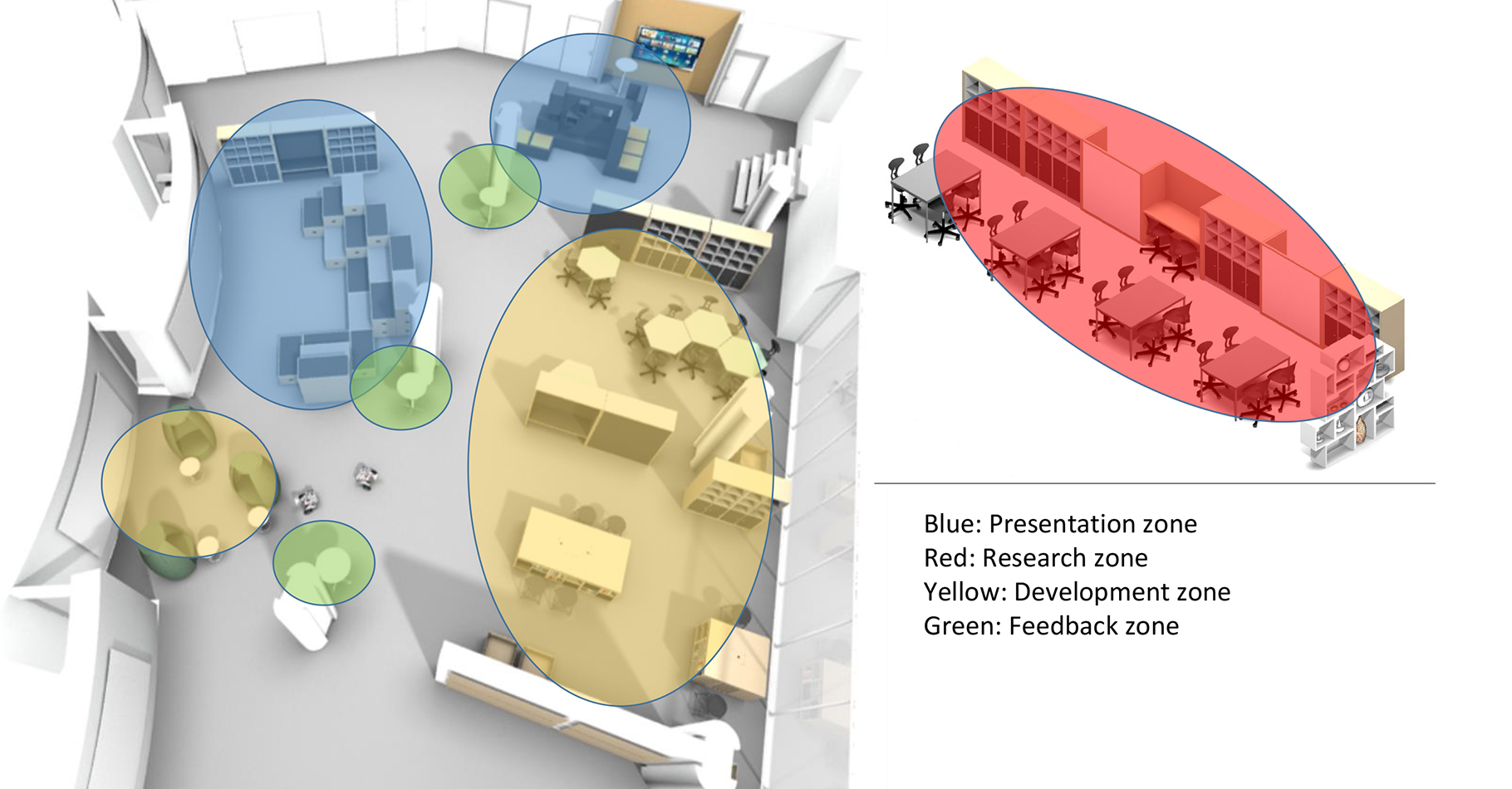 Presentation Zone
The Presentation Zone both starts and concludes the working process. Students are presented with their challenge here, and this is also where they present their final product.
This large presentation zone was created using stage boxes, which can be moved into various constellations, providing intimate spaces for groups of all sizes.
In addition to the large Presentation Zone, UCC also wanted a presentation module that students can move around. This module is a visible embodiment of the circular working process and offers a presentation option with a focus on process rather than product.
Exploration Zone
The students must seek out knowledge and data in the Exploration Zone to solve their challenge.
This zone is furnished with group tables that can be combined according to the size of the group. There are also a couple of spaces for concentrated individual studies. The shelf wall allows students to keep materials close by, while also shielding against sonic and visual noise from the corridor.
Development Zone
The Development Zone is dedicated to idea generation and idea selection. Students develop prototypes of the first ideas, and then refine and improve these prototypes.
Materials are all-important in the Development Zone, so it is framed by cabinets that also provide storage space. This zone is also equipped with large working islands for group work.
Feedback Zone
Feedback is essential throughout the working process. Therefore, little round high tables are situated around the room, providing venues for quick feedback sessions. The tables are blue – the characteristic colour of feedback.