Adfærdsdesign – eller nudging er et kendt begreb – i detailbranchen. Men det kan i høj grad bruges i skolerne, hvor det både kan understøtte kravet om mere bevægelse, imødekomme forskellige læringspræferencer og gøre indlæringen sjovere for eleverne. Og her i HOLMRIS B8 skaber vi heller ikke blot rum, hvor mennesker kan opholde sig. Men rum, hvor mennesker kan udfolde sig. Trives. Og udvikle sig.
Vores gode samarbejdspartnere, NERD architects og Hello Monday, har her skrevet om tankerne bag et nyt adfærdsdesign-produkt – visuelle læringsmiljøer – samt hvilke fordele, det giver både elever og lærer.
Krav om bevægelse og meningsfuld undervisning
Folkeskolereformens krav om, at alle elever i gennemsnit skal have 45 minutters bevægelse om dagen, er gavnligt for eleverne på adskillige parametre. Det har forskningsresultater underbygget gang på gang de senere år.
Samtidig ved vi også, at børn har forskellige læringspræferencer. Derfor er det vigtigt at kunne differentiere undervisningen og fastholde interessen for den enkelte elev gennem nogle meningsfulde undervisningsforløb.
Som en naturlig forlængelse heraf møder vi efterspørgsel blandt lærere og pædagoger på værktøjer, der understøtter mere bevægelsesorienterede undervisningsforløb, og som skaber en kobling mellem omgivelserne og det, der skal læres.
Visuelle læringsmiljøer øger motivation og indlæring
Rapport viser, at hver fjerde skoleelev keder sig – og det påvirker deres indlæring. Det kan blandt andet skyldes, at hvis eleverne har svært ved at se læse rummenes formål, har de typisk også svært ved at engagere sig.
Ovennævnte er nogle af de årsager, som har motiveret os og HOLMRIS B8 til i fællesskab at udvikle en serie folier til brug af visuelle læringsmiljøer, der inspirerer til faglig nysgerrighed og fungerer som et konkret værktøj i undervisningen – på en ny kreativ og spændende måde.
Med brug af visuelle greb i dit læringsmiljø kan du skabe rum kodet til at spejle en bestemt adfærd, hvor eleverne gennem designet hurtigt kan aflæse, hvad der er muligt i rummet. Ved at appellere til deres sanser øger du deres motivation, energiniveau og indlæring.
Den tredje pædagog / lærer
Udover at øge chancerne for indlæring gør de visuelle læringsmiljøer det også muligt at integrere mere bevægelse i dagligdagen.
En lang lige gang indbyder til løb, men ved at tilsætte visuelle læringselementer opfordrer man både til bevægelse og læring – gennem leg. Det kan blandt andet være med en tabelbane på gulvet, hvor eleverne kan hoppe fra tal til tal og lære tabellerne på en mere fysisk, rytmisk og visuel måde – eller blot bruge den som hinkebane.
Mønstre og prikker på gulvet kan kombineres med et stopur og skaber dermed en anderledes og sjov måde at komme fra A til B på.
I stedet for at sige til eleverne, at de skal bevæge sig mere, kan man med de visuelle læringsmiljøer nudge og skabe omgivelser, der gør at eleverne helt af sig selv hopper, hinker eller springer fra punkt til punkt ned af gangen – eleverne kan simpelthen ikke lade være med at bruge dem.
Vores hjerner kører normalt på autopilot, men når den lange lige gang i stedet bliver omdannet til en visuel lærings- og legeplads, slår autopiloten fra, og man får lyst til at interagere med den. De visuelle læringsmiljøer er så at sige retningsgivende for eleverne og fungerer som den 3. pædagog.
En klar identitet med en høj kvalitet
Visuelle læringsmiljøer eller folier er ikke et nyt fænomen men eksisterer i dag på mange skoler i forskellige afskygninger. Fælles for mange af produkterne er, at de alle har en tendens til at 'tale ned' til eleverne med larmende farver og former, som snarere forurener det fysiske undervisnings- og arbejdsmiljø end det inspirerer og understøtter.
Vores nye serie af folier er udviklet til at understøtte bygninger og rum og kan apteres på de fleste overflader uden at kompromittere skolens arkitektoniske kvaliteter eller den øvrige indretning.
Produkterne er udviklet til forskellige formål under underskrifterne: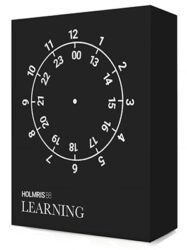 Serien Learning
Learning produktserien består af folier med et tydeligt læringsmæssigt indhold – en ramme at skabe undervisningen ud fra.
Med et årshjul placeret på gulvet kan eleverne gennem aktiv involvering fx lære om årstiderne, og hvordan et år afløser et nyt. De kan stille sig på deres fødselsdagsmåned og fortælle, om det er en kold eller varm måned – eller de kan se, hvor mange måneder de er ældre eller yngre end de andre elever.
Tabelbaner kan bruges i matematikundervisningen, hvor den kinæstetiske lærende elev vil indlære og huske tabellerne som gå-skridt, løbe- eller sideværts trin, og den visuelt lærende elev vil indlære og genkende tabellerne som mønstre.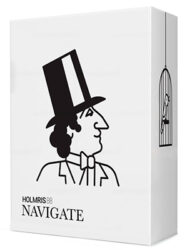 Serien Navigate
Folierne kan både agere vejvisere eller være med til at iscenesætte rummets formål.
Flere skoler arbejder blandt andet med fagmiljøer i udskolingen, hvor en stærk kodning og differentiering af rummene gør, at eleverne lettere kan aflæse faget og den hensigtsmæssige adfærd i relation til arbejdet.
Folierne er med til at understøtte faget og kan aktivt bruges i forbindelse med undervisningen, hvor både den kinæstetiske og visuelt lærende elev kan bruge folierne til at indlære faget gennem mønstre og bevægelse. Med Navigate produktserien kan man derudover give institutioner eller afdelinger en tydeligere identitet, hvor forskellige temaer og aftegninger kan fungere som vejvisere – eksempelvis kan naturfagslokalerne have Niels Bohr eller Einstein på døren.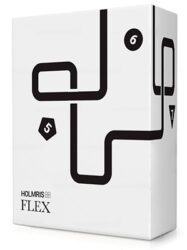 Serien Flex & Play
Flex-serien består af simple grafiske byggesten, der kan sammensættes på et utal af måder og kan tilpasses alt efter arealets form og størrelse. Serien kombineres med fast inventar til at skabe forløb, der inviterer til bevægelse, og som kan benyttes i undervisningen til forskellige øvelser.
Eksempelvis kan cirkler med tal placeres både som tabeller eller som 'målelinjer' for, hvor langt eleverne kan springe. Eleverne kan med Flex & Play også selv være med til at sammensætte mønstre, som de kan skabe lege ud fra.
Flex serien kan naturligvis også kombineres med Learning og Navigate folien.