FN's 17 verdensmål, de såkaldte Sustainable Development Goals (SDG´ere), er en global målsætning om at samle indsatsen mod de udfordringer, vi oplever lige nu, og som nærmer sig med skræmmende hast. Her har vi beskrevet de to Verdensmål, som vi i HOLMRIS B8 arbejder fokuseret med.
For bæredygtighed er en integreret del af vores DNA. Og sådan har det faktisk altid været. Fra vores start som savværk i 1914 med egen skov i baghaven og genplantning som kerneprincip. Og med respekt for hvert stykke materiale.
Vi driver ikke længere skovbrug. Men bæredygtighed og cirkulær tænkning er stadig kernen i vores forretning. I alle processer. I alle produkter. Derfor fylder FN's Verdenmål meget hos os, som du kan læse her
Alle verdens lande på nær to bakker op om Verdensmålene. Det er aldrig set før, at et initiativ har så massiv opbakning. Presset på vores planets ressourcer er så voldsom, at alle mennesker bliver nødt til at forholde sig til konsekvenserne.
Men i modsætningen til den lange række af dommedagsprofetier, som fylder meget i debatten, så er kampen langt fra tabt. Dog skal vi se realiteterne i øjnene. Og handle.
Socialt ansvar omsat til handling
Det er vores holdning, at enhver seriøs virksomhed må tage ansvar og arbejde seriøst med verdensmålene af flere årsager. Og netop her bliver det komplekst. Der er nemlig ikke kun én grund til, at verdensmålene er relevante for verdens virksomheder. Det er ikke kun for at styrke bundlinjen. Og da slet ikke på kort sigt. Det handler om meget mere. Selvfølgelig spiller økonomi en stor rolle, og lad os da bare med det samme bekræfte, at der er en konkurrence fordel ved at arbejde seriøst og professionelt med verdensmålene. Kunder efterspørger det.
Regnskabsloven §99 a og b kræver decideret, at virksomheder beretter om deres stillingtagen til ansvarlighed. Der vises altså med al tydelighed, at der også fra lovgivningens side bliver holdt øje med virksomhedernes ansvar.
Mange undersøgelser viser, at medarbejdere ikke blot ønsker ordentlig løn og gode arbejdsforhold; de forventer det. Og de vil arbejde for en virksomhed, der tager ansvar. Det skaber mening, og det tiltrækker de kloge hoveder – særligt de unge.
Så ja til konkurrencefordel, employer branding og begrænsning af risiko i forhold til stram lovgivning, der haler din virksomhed indenom.
Vi har udvalgt to af de 17 Verdensmål, som vi arbejder med i HOLMRIS B8.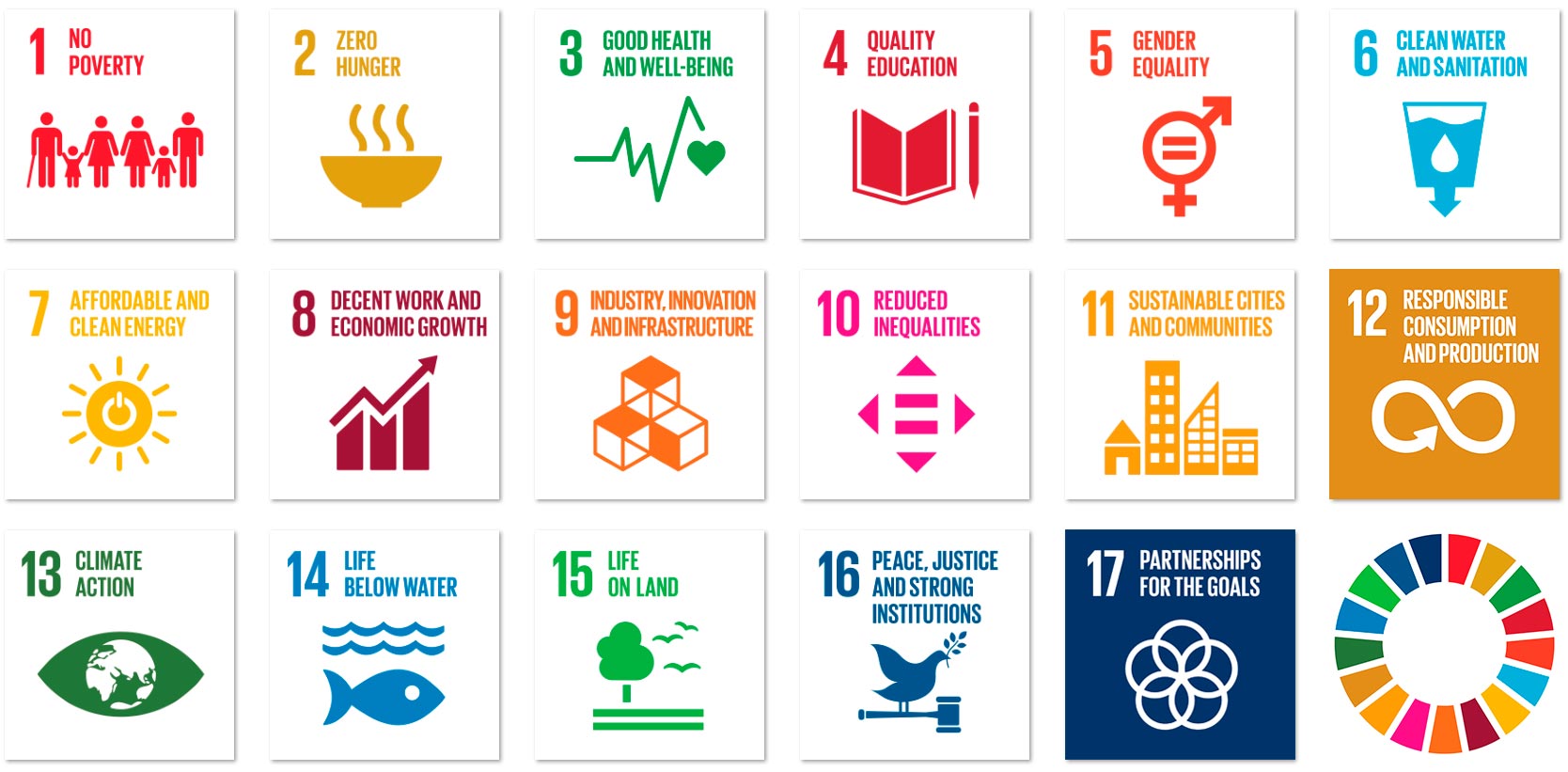 #SDG12 Ansvarlig forbrug og produktion
Vores primære mål er verdensmål nr. 12 Ansvarlig forbrug og produktion. Det er afgørende, at vi omstiller vores nuværende mind-set til produktion og forbrug. Vi har iværksat flere indsatser, som skal skabe ændringer i vores måde at tilbyde møbler til vores kunder. I praksis har vi omstillet vores virksomhed fra at være lineær til også at være cirkulær.
I HOLMRIS B8 har vi indført et 'Take Back' system, så vores kunder har mulighed for at komme af med deres brugte møbler. Vi tilbyder vores kunder at køber deres møbler mod en fair betaling, og møblerne gensælges via vores webshop.
Det er dog langt fra sådan, at alle de brugte møbler, som vores kunder har, kan gensælges. Tværtimod er det vores erfaring, at 50% ofte bliver smidt ud. Det har vi gjort op med og har i den forbindelse etableret et donationsnetværk, som alle skoler, institutioner og NGO'er kan blive medlem af. Ganske gratis. Møbler, som ellers ville være blevet smidt ud, bliver nu givet til velgørenhed.
På nuværende tidspunkt har vi doneret over 50.000 møbler væk i samarbejde med vores kunder. De møbler, som ikke kan doneres væk, bliver sorteret og genanvendt.

Leje-koncept mindsker brug-og-smid-væk-kultur
I HOLMRIS B8 har vi desuden lanceret et leje-koncept. Det er et afgørende skridt mod begrænsning af unødvendig produktion. At leje frem for at eje er et massivt opgør med den lineære økonomi, der er kendetegnet ved, at ressourcer omdannes til fx møbler, som smides ud efter brug.
Hvis alle virksomheder lejede deres møbler, ville møbelproducenterne vide, at møblerne en dag kommer retur til dem. Det ville derfor skabe økonomisk mening at sørge for, at disse møbler bliver sat i stand og ikke bare smidt ud.
Igen ville dette være et incitament for, at møbelproducenterne benytter bedre kvalitet til deres produktion, da den længere levetid, som god kvalitet sikrer, er i virksomhedens økonomiske interesse. Sidst men ikke mindst har kunden kun en meget begrænset likviditetsbinding, når de lejer frem for at eje.
Teknologi mindsker unødvendig indkøb
Teknologi er udråbt til at være den helt store redning for alle, der sætter pris på en verden med det nuværende temperaturniveau. Her leverer HOLMRIS B8 en løsning, hvor vi via en RFID (Radio-frequency identification) chip kan monitorere kundens møbler og derved effektivt skabe et overblik over møblerne.
I virksomheder med hundredevis af medarbejdere (og endnu flere møbler) kan denne løsning sikre, at der ikke købes unødvendigt ind.

#SDG17 Partnerskab for handling
Verdensmålene er kendetegnet ved at være store og massive målsætninger. De er realistiske at nå, men ikke for et land eller en virksomhed alene. Det kræver samarbejde mellem vidensinstitutioner, NGO´er, det offentlige og de private virksomheder. Det er næppe uden grund, at det 17. verdensmål er Partnerskaber. Vi skal samarbejde bredt for at realisere de globale målsætninger.
I HOLMRIS B8 arbejder vi intensivt med partnerskaber. Alene vores donationsnetværk består af 1752 forskellige skoler, frivillige organisationer og NGO´er. Vi sørger for, at de får gratis møbler, og de hjælper os med at begrænse udsmidning.
Vi arbejder derudover målrettet på at etablere samarbejde med de 10 største kommuner i Danmark. Udgangspunktet er et samarbejde om at skabe arbejdspladser til socialt udsatte og genbruge kommunens brugte møbler, så de ikke bliver smidt ud. Vores målsætning er, at alle kommuner i Danmark skal have mulighed for at købe brugte møbler. På den måde hjælper vi kommunerne med at øge deres genanvendelsesprocent og spare penge. Og til at skabe rum til mennesker, som er udfordret på den ene eller anden måde.
Partnerskaber, der sikrer viden om cirkulær økonomi
Fordi cirkulær økonomi er integreret i vores forretning, og fordi den store impact ikke sker uden partnerskab med vores kunder, har vi i samarbejde med Aalborg Universitet ansat en erhvervs-Phd. Hun forsker i cirkulær økonomi og offentlige indkøb.
Dokumentation og den nyeste viden inden for feltet er afgørende, og vi betragter i høj grad os selv som toneangivende inden for cirkulær møbelindkøb.
Vi vælger derfor at bruge tid på at samarbejde med universiteter, lave foredrag og deltage i paneldebatter. På den måde gør vi opmærksom på, at der er møbelleverandører, som både har ressourcer og viden til at indgå i innovative fællesskaber med henblik på at udvikle fremtidens møbelløsninger.
Utraditionelle partnerskaber
Viden er et afgørende parameter i udviklingen af nye og bæredygtige løsninger. Derfor samarbejder vi bredt og tilbyder praktiksamarbejde med utraditionelle samarbejdspartnere.
Vi har blandt andet haft 12 pædagogstuderende og 3 socialrådgivere i praktik, og pt har vi en sociologistuderende, der skriver speciale med udgangspunkt i vores indsats for skabe arbejdspladser til marginalisteret unge. Konkret samarbejder vi med lokale erhvervsskoler, hvor vi særligt bruger EGU uddannelsen til at finde, træne og uddanne unge på kanten af arbejdsmarkedet.