Skoler er interessant for os alle. Skolerne binder os sammen, vi har på forskellige stadier i livet berøring med skoler – og vi har en forpligtelse til at følge med i udviklingen af fremtidens skole.
CF Møller Architects har de senere år været i front i forhold til udviklingen af to nye skoler, der både skal opfylde store arkitektoniske krav, muligheder for bevægelse og nye paradigmer som holistisk tænkning og meningsfuldhed.
Vi har talt med Lone Wiggers, partner og arkitekt ved C.F. Møller, som har arbejdet med Copenhagen International School (CIS) og Ny Islands Brygge Skole, for at høre, hvad der præger fremtidens skoler.
Hvad er det nye, der er tænkt i forhold til involvering af eleverne?
"Eleverne skal arbejde fysisk stofligt med naturen, mens de lærer, og der lægges vægt på, at man lærer gennem viste eksempler og forsøg. Ny Islands Brygge Skole er en temaskole med mad og sund kost som tema. Børnene skal selv plante, pleje, høste, tilberede og spise (en begrænset del af) deres skolemad. Undervejs bruger man processen til at lære dem om biologi, kemi, fysik, natur og miljø, klimaforandringer med mere, således at der er direkte forbindelse mellem den naturvidenskabelige del af undervisningen og skolefrokosten. På den måde gør man læren om naturforståelse central og fysisk, og der kommer fokus på sammenhængene 'fra jord til bord'."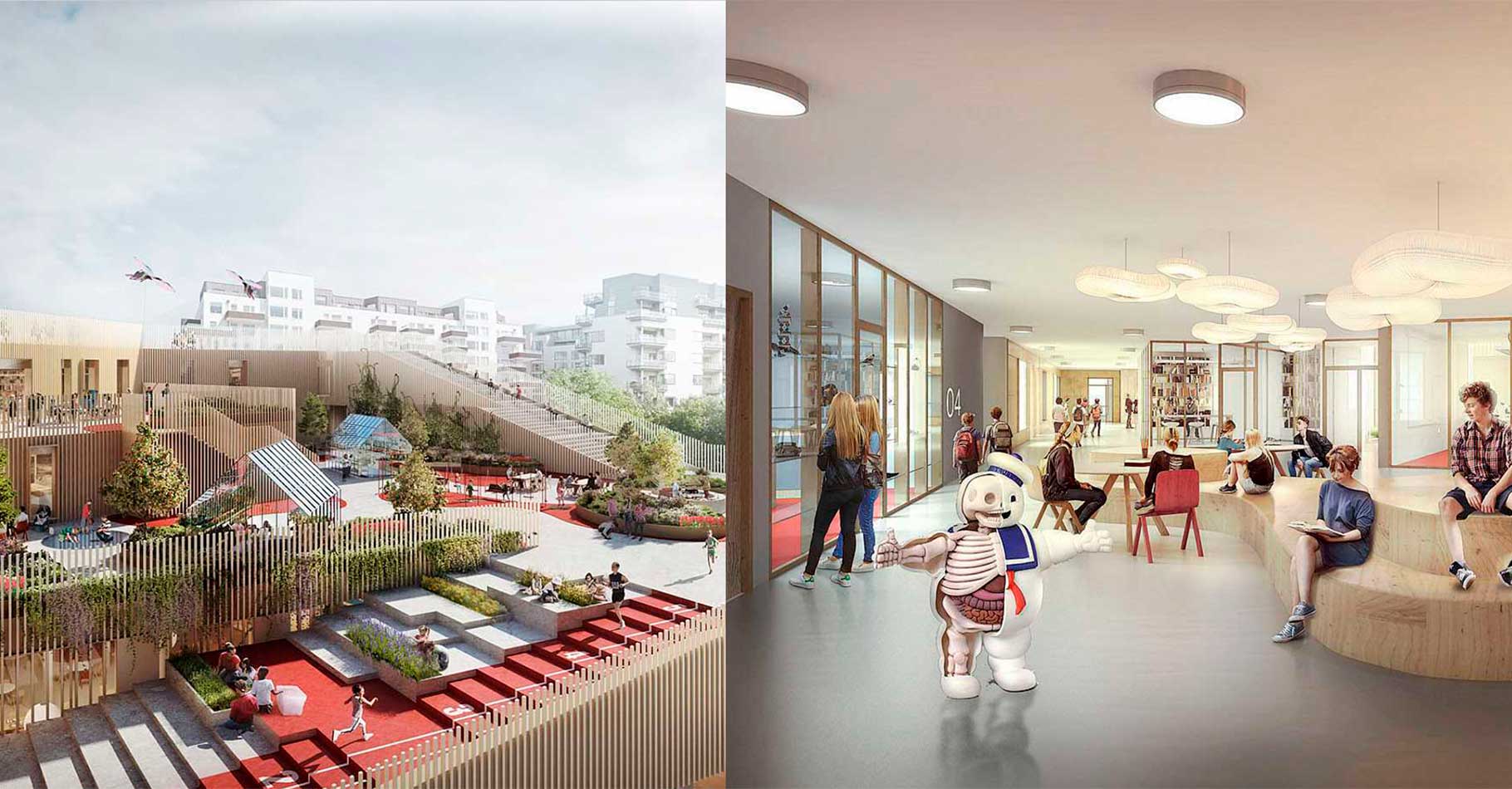 Hvordan involveres eleverne i brugen af bygningen?
"I forbindelse med den nye folkeskolelovs krav om mere bevægelse i skoledagen skal eleverne bruge bygningen aktivt i løbet af dagen. Selve skolegården ligger fordelt på tre forskellige niveauer på skolens tag med trappeforløb imellem, der betyder meget bevægelse op og ned i selve bygningen. Øverst ligger skolens boldbane i et boldbur, og der er løbebane og parkour-lignende forhindringsbane. Plantebede, drivhuse og udekøkkener ligger på de to lavere niveauer, hvorfra klasseværelserne med de naturvidenskabelige faglokaler har direkte udgang. Det betyder, at man kan bruge 'udelaboratorierne' direkte fra klasselokalerne. I skolens indre er det store, fælles samlende kantinerum omkranset af bevægelse og sund mad-temaerne, da spiserummet adskilles fra gymnastiksalen med en glasvæg på den ene side, og skolekøkken og hjemkundskabslokaler på de andre sider."
Hvorfor er det vigtigt at involvere børnene?
Det aktiverer dem både mentalt og fysisk og på den måde får de 'noget med hjem'. Man siger, at det man sanser, husker man, så gennem børnenes sansemæssige involvering i at plante, luge, pleje osv. skabes en oplevelse, der huskes af kroppen på en anden mere involverende måde. Hvis eleverne involveres, tager de nemmere selv ansvar for deres projekt, så involvering er nøglen til læring."
Hvor meget har I lagt vægt på bevægelse og grøn-tænkning?
Både CIS og Ny Skole Islands Brygge er tænkt meget bæredygtige. CIS er iklædt solceller på hele bygningen, hvilket gør børnene opmærksomme på energidagsordenen på en helt intuitiv måde. Ny Islands Brygge Skole skal opføres efter skrappe energikrav og også leve op til den nye folkeskolelovs mål om bevægelse i hverdagen, hvilket fysisk kan ses på skolen, hvis design med den 'inviterende trapperejse' op på bygningen og til tagets bevægelsesrum."
Hvad betyder placeringen af skolen?
"Det er væsentligt, hvor skolen er placeret. Det betyder noget om skolen ligger centralt for brugerne, tæt på offentlig transport eller midt i et boligdistrikt, og om der er en sikker skolevej. Endelig er placering noget vi hos C.F. Møller Architects lægger særligt meget vægt på i vores arbejdsmetode. Hvordan får vi det bedste ud af det sted vi bygger på? I Ny Islands Brygge Skoles tilfælde tager vi inspiration i den nærliggende Amager Fælled mod øst, i Havnen mod vest og i den nye by-plads mod syd, så stedet bliver rigtigt fremhævet og repræsenteret. Hertil kommer hensyn til mikroklima såsom sol og læ. Stedsanalysen omsættes til arkitektur og kan for eksempel komme til udtryk i byggeriets materialevalg eller i bygningens formgivning."
Det er i øvrigt vigtigt at nævne, at Ny Islands Brygge skole ser ud som den gør, som et resultat af København Kommunes visioner for fremtidens skolebyggeri og et samarbejde med MT Højgaard, som skal opføre skolen.