I de sidste år har vi været vidne til en transformation, hvor kunst og design er kommet tættere på hinanden. Vi har bedt møbel- og indretningsdesigner Sara Martinsen forklare, hvad det betyder for møbelverdenen og indretningstrenden generelt.
Når man kigger på diverse tendenser og strømninger i designverdenen, er der ingen tvivl om, at modebranchen er den, der altid går forrest. Både etablerede og upcoming fashion brands er bannerførere og introducerer nye stilarter med stor virkekraft og hastighed.
I den del af branchen, som jeg beskæftiger mig med, nemlig møbel- og indretningsdesign, går det (heldigvis) ikke helt så stærkt.
Et møbel vil altid være en langtidsinvestering til sammenligning med en bluse eller et par bukser, og af samme grund vil møbel og produktdesign aldrig være så tendensbaseret som mode. Selvfølgelig påvirkes møbelbranchen af modeverdenen igennem farver, materialer, mønstre og formgivning, men det er enkelte delelementer, som bliver bragt i spil og sjældent hele paletten.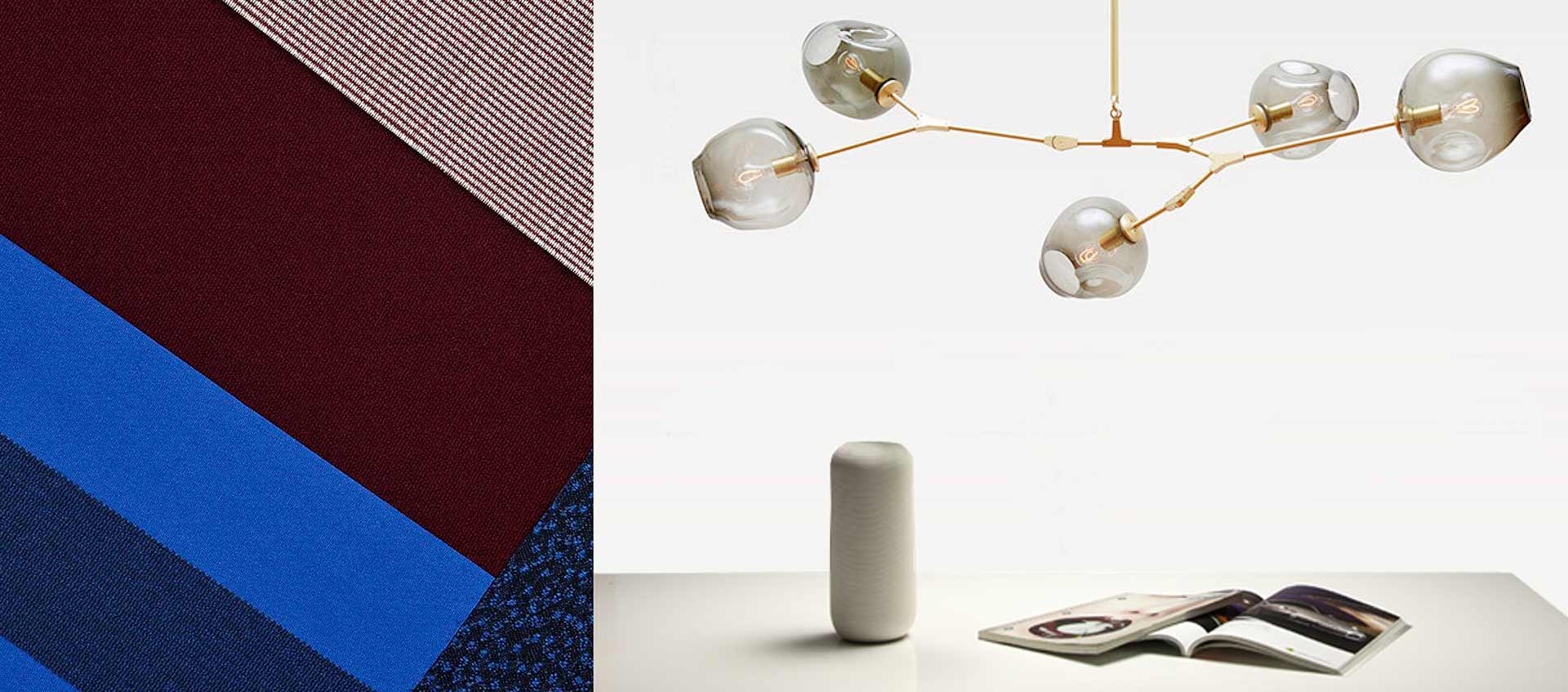 Søgen efter det specielle
Sammen med mode er de sociale medier også med til at sætte deres præg, og i en verden hvor vi alle bliver bombarderet med indtryk, har der længe været en søgen efter det specielle og det vovede i forbindelse med indretningsdesign.
Det er det individuelle og det identitetsskabende, som skiller sig ud fra alle de andre visuelle indtryk, og som man tager med sig i hukommelsen. Før kaldte vi det 'en fotogen detalje'. Nu hedder det 'et instagram moment'.
Her kommer den mere nedtonede møbelverden ofte til kort, men de sidste par år er der i stedet sket det, at kunst og design har fundet tættere sammen. Her opstår der et spillerum, som tillader designverdenen at være mere konceptuel og grænsesøgende samtidig med, at kunsten får tilført mere end den visuelle funktion samt et større publikum at kommunikere til.
Det er omdrejningspunktet i dette blogindlæg.
Fra finanskrise til et simpelt, kunstnerisk udtryk
I midten af halvfemserne kom den hollandske virksomhed Droog på banen, og senere fulgte brandet Mooi med Marcel Wanders som frontfigur. Begge firmaer havde en humoristisk og kunstnerisk tilgang til design og ønskede at skubbe nogle grænser, men det var dog stadig et nichefelt.
Omkring årtusind-skiftet gik interiørbranchen for alvor ombord i dobbeltkrumme flader, karbon og produktionsteknikker med sprøjtestøbning. Det var ikke altid lige kønt og til tider meget langt fra det simple skandinaviske udtryk. Vi talte alle om at genopfinde den skandinaviske stil og stå på skuldrene af vores dygtige forfædre, men inden vi nåede særligt langt med de tanker, kom finanskrisen.
Både under og efter krisen gik de producerende virksomheder i dvale. Meget få produkter blev lanceret, og det var som om, at der blev gjort hovedrent rent designmæssigt. Efter en tænkepause og en hovedrengøring fulgte det ukomplicerede og minimalistiske formudtryk.
Nu er det efterhånden otte år siden, at Daniel Rybakken præsenterede sine smukke lysinstallationer og skulpturelle lamper. Hans simple geometriske former er et godt eksempel på den stil, som fulgte efter finanskrisen. Måske var hans simple udtryk befriende modigt efter en tung finanskrise og en periode med overdesignede produkter. Store brands tog ham ind i folden, og dermed blev det kunstneriske også gjort kommercielt og mere tilgængeligt.
Produkter som kunst
Siden 2010 er kunstens indvirkning på designbranchen kun blevet tydeligere. I samme felt af belysningsdesignere er også Michael Anastassiades og Lindsey Adelman, der i den grad har taget branchen og pressen med storm. Belysningsfirmaer som italienske Flos, svenske Wastberg, amerikanske Apparatus samt Roll & Hill har også stor succes med deres skulpturelle produkter.
Den britiske designer Faye TooGood taler om modet til at bringe kunst og håndværk tilbage i møbelbranchen. Sammen med den italienske duo Formafantasma er hun toneangivende for netop det felt, hvor kunst og design mødes. Når produkter fra TooGood bliver udstillet på gallerier som Dimore Gallery og Nilufar samtidig med at kommercielle brands som Please Wait To Be Seated sælger hendes produkter, sker der det, at kunsten bliver mere tilgængelig og mere udbredt. Derfor ser vi også mange flere indretningsprojekter, der benytter kunst.
Kunsten kan tilføre et ekstra lag af personlighed, karakter og historie til en indretning og medvirke til det som er så svært at mestre blandt millioner af indtryk; nemlig at fange vores opmærksomhed.
Herhjemme får galleriet Etage Projects med rette enorm opmærksomhed, og Kvadrat er en stærk katalysator for mødet mellem kunst og design, når de inviterer kunstnere til at arbejde med deres møbelstoffer. Kvadrat er måske også den virksomhed, som på bedste vis formår at viderebringe modens strømninger til møbelbranchen, når modedesigner Raf Simons udvikler deres eksklusive tekstiler til møbelpolstring.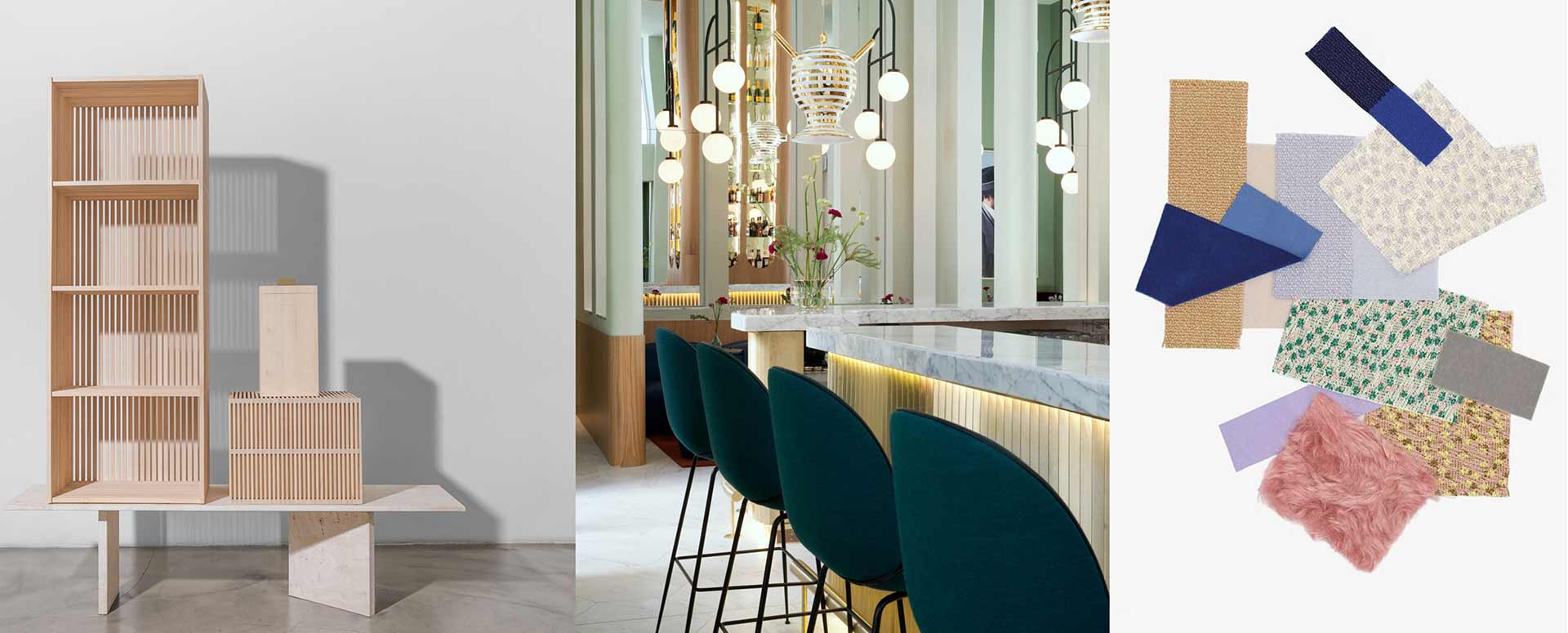 Særpræget hotelindretning
De to danske møbelbrands som Gubi og &Tradition viser, at de trods deres nordiske ophav mestrer et mere internationalt look, der henvender sig til hospitality-markedet.
Engang var forskellen på kontraktmarkedet (herunder også hospitality) og det private marked meget stor rent designmæssigt. Kontraktmarkedet bar præg af møbler designet til slitage og midlertidigt ophold, hvor det private marked fokuserede på detaljerne, materialerne og det personlige.
De indretningsdesignere, der beskæftiger sig med hoteller og restauranter er for længst begyndt at indrette med en hjemlighed, en tyngde og et farve- og materialevalg, der før var svært at finde på kontraktmarkedet.
Det har derfor vist sig at være en god forretningsstrategi at skille sig ud som skandinavisk designvirksomhed sådan som netop &Tradition og Gubi har gjort det. Det er en god idé, fordi at indretningsdesignere benytter de mere kunstneriske møbler til at give et hotel eller en restaurant det personlighedstræk, som vi alle drages af.
Alle vil gerne dele deres rejeoplevelser på sociale medier, og her har de mere kunstneriske møbler og indretninger en klar fordel, når der skal skabes et fotogent øjeblik med telefonen.
I det skræddersyede ligger der en dedikation, som er svær at hamle op med. Det unikke har altid været fascinerende. Det er eksklusivt, modigt og inspirerende og i en verden, hvor vi alle – firma som privatperson – gerne vil fremstå som individualister er det en stærk handelsvare, som er kommet for at blive.
****
Fotokreditering:
Kvadrat, Faye Too Good Studio, &Tradition, Etage Projects, Please Wait To Be Seated, Hay Design, Nilufar Gallery, Lindsey Adelman, Daniel Rybakken, Luceplan, Studio Formafantasma, Gubi, Michael Anastassiades Design, Hotel Barcleó Torre De Madrid, Artek, Office Magazine.