Hvordan gør du kontoret klart, så medarbejderne kan vende sikkert tilbage efter coronakrisen?
Med inspiration fra én af verdens førende arkitekthuses syn på fremtidens kontor samt en global virksomheds konkrete ændringer, giver vi dig vores bud på, hvad du kan gøre for skabe en sikker kontorarbejdsplads for medarbejderne.
Over hele verden gør man sig tanker om, hvordan vi vender tilbage til en normal hverdag.
Og svaret er: Det gør vi ikke. Det bliver en ny hverdag med nye vaner og nye måder at agere på, mødes på, gå på arbejde på og i det hele taget at leve på.
Mange er enige om, at kontoret er det sted, hvor vi vil opleve den største forandring i forhold til det, som vi hidtil har kaldet normalen.
I det engelske nyhedsmedie The Guardian argumenter én af verdens største tegnestuer Zaha Hadid eksempelvis for, at vi vil bevæge os væk fra storrumskontorerne og co-working spaces og hen mod en mere isoleret indretning:
Arjun Kaicker, Head of User Parametrics hos Zaha Hadid, siger:
"I think we'll see wider corridors and doorways, more partitions between departments, and a lot more staircases. Everything has been about breaking down barriers between teams, but I don't think spaces will flow into each other so much any more."
Han bliver bakket op af Design Research Unit, som var en af de første generationer af britiske designkonsulenter, der kombinerede ekspertise inden for arkitektur, grafik og industrielt design:
"I'm not suggesting we all go back to working in 1950s cellular cubicles, but I do think the density in offices will change. We'll see a move away from open-plan layouts, as well as better ventilation and more openable windows."
Darren Comber, CEO i Scott Brownrig, der fusionerede med Design Research Unit i 2004.
Kontorindretningen skal med andre ord nytænkes. Og i Forbes' artikel '5 predictions about how coronavirus will change the future of work' mener man, at coronakrisen er med til at gøre kontorerne bedre:
"Your office will get better. When employees go back to the office, employers will be forced to re-think their approach to the workplace. Companies will need to consider enhanced cleaning techniques, more distancing and increased choices for employees across a campus (providing places for focus, collaboration, learning, socializing and respite). In addition, all the things employees loved about being home—comfortable places to relax between meetings or personalization for example—will create new demands on the office."
Tracy Brower, skribent for Forbes.
Post-corona-kontoret skal først og fremmest have fokus på, at medarbejderne kan holde mere afstand til hinanden. Det kan både opnås ved fx at
Placere færre mennesker i samme lokale
Omrokere møblerne
Inddrage kvadratmeter i fx kantinen eller store mødelokaler til arbejdspladser
Design adfærden via nudging
En fjerde mulighed er at guide medarbejderne til at holde mere afstand ved hjælp af nudging. Altså, at indretningen designes, så det påvirker den ønskede adfærd positivt.
Det har de fx gjort hos én af verdens største rådgivningsvirksomheder på erhvervsejendomsmarkedet, Cushman & Wakefield. På deres kontor i Amsterdam har de med designkonceptet '6 feet office' bl.a. lavet ensrettede 'gågader' med pile i gulvet, som indikerer hvor og i hvilken retning, medarbejderne skal bevæge sig på gangene. Et virkemiddel, som også bruges på sygehuse.
På samme måde markerer cirkler på gulvet rundt om de enkelte arbejdspladser, hvor tæt kollegerne må komme på hinandens arbejdszoner. Det samme gør skærmvægge placeret både rundt på kontorerne og ved arbejdspladserne.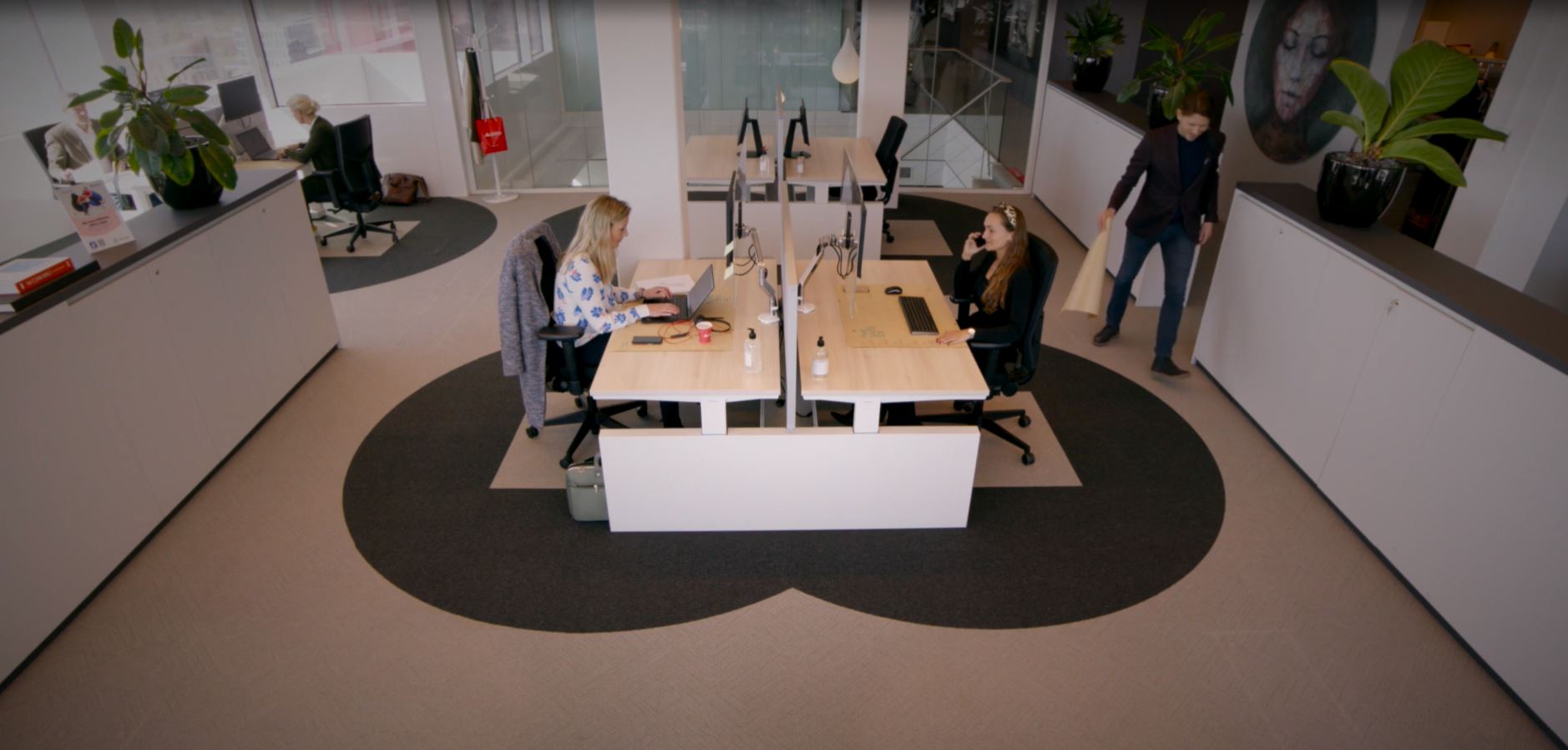 Alt sammen visuelle virkemidler, der hjælper medarbejderne med intuitivt at holde afstand til hinanden og gøre arbejdspladsen til et funktionelt og sikkert sted.
Et brugbart og nemt alternativ til folier på gulvet er gulvtæpper. De giver den samme visuelle markering af, at her er en zone og en grænse, som skal overholdes.
Vil du ændre bevægelsesmønstre og bryde gangzoner, kan reoler også være en effektiv måde at påvirke medarbejdernes færden i en ønsket retning.
Skab zoner
Et andet vigtigt aspekt i det nye kontor er et stigende behov for at kunne arbejde i forskellige miljøer. Den aktivitetsbaserede indretning, hvor arbejdspladsen er delt ind i zoner, der opfordrer til fx fokus, samarbejde, socialisering osv. bliver i den grad relevant for medarbejderne.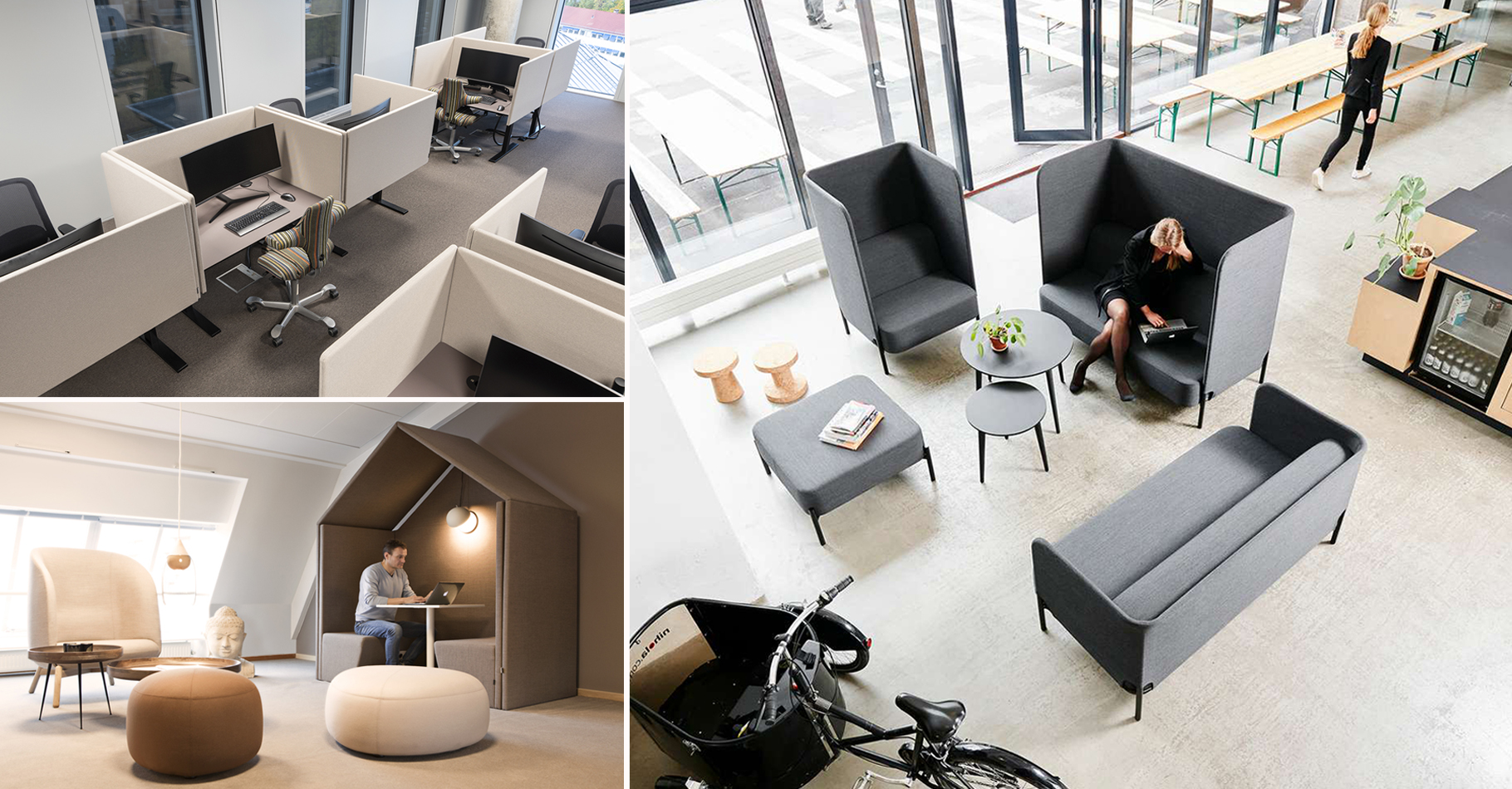 Denne måde at skabe rum til medarbejdernes forskellige typer af jobaktiviteter er både med til at dele medarbejderne mere op og tilfører arbejdspladsen mangfoldighed og afveksling. Samtidig hænger dette godt sammen med behovet, mange virksomheder oplever for at pladsoptimere. Fx ved at placere højryggede sofaer som TWEET i kantinen eller storrumskontoret for at skabe plads til mødeaktivitet eller fokuseret arbejde.
Skal vi hjælpe dine medarbejdere sikkert tilbage?
Dette blogindlæg er naturligvis ikke et udtømmende idékatalog til, hvordan du skaber en kontorarbejdsplads, som imødekommer myndighedernes retningslinjer og medarbejdernes krav på en smittefri arbejdsplads.
Men hos HOLMRIS B8 står vi klar med både viden, ekspertise og produkter til at løse disse udfordringer